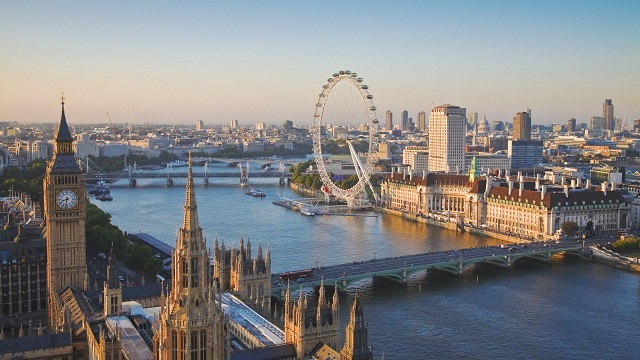 Thinking of a place to visit on your next London trip? Here's a quick list of the city's tourist spots!
London is a diverse and exciting city with some of the world's best sights, attractions and activities.
ABOUT LONDON
London, the capital of England and the United Kingdom, is a 21st-century city with history stretching back to Roman times. At its centre stand the imposing Houses of Parliament, the iconic 'Big Ben' clock tower and Westminster Abbey, site of British monarch coronations.
Across the Thames River, the London Eye observation wheel provides panoramic views of the South Bank cultural complex, and the entire city.
Population: 8.136 million (2011) Trending, United Nations
Local time: Thursday 2:46 pm
Weather: 23°C, Wind E at 19 km/h, 50% Humidity
Constituent Country: England
Districts: City of London & 32 boroughs
Sovereign State: United Kingdom
BEST TIME TO VISIT IN LONDON
The climate in the capital is one of the mildest in the UK, but London weather can be quite unpredictable.
In autumn and winter, take in a museum or art gallery, or head to one of London's many pop-up ice rinks over the Christmas period. Spring and summer are perfect for enjoying the outdoors at one of the many wonderful parks, or indulging in a drink in the sun at a rooftop bar.
So here's our list of 10 spots to visit in London:
Tower of London
The London Eye
St. Paul's Cathedral
House of Parliament aka Palace of Westminster
Westminster Abbey
Buckingham Palace
The British Museum
Tower Bridge
Piccadilly Circus
The National Gallery
1. TOWER OF LONDON
TOWER OF LONDON
The Tower of London, officially Her Majesty's Royal Palace and Fortress of the Tower of London, is a historic castle located on the north bank of the River Thames in central London.
Address: St Katharine's & Wapping, London EC3N 4AB, UK
Built: White Tower: 1078; Inner Ward: 1190s; Re-built: 1285; Wharf expansion: 1377–1399
Area: Castle: 12 acres (4.9 ha); Tower Liberties: 6 acres (2.4 ha)
Architects: William Vertue, Robert Vertue
Did you know: German spy Josef Jakobs was last man to be executed in Tower of London.
2. THE LONDON EYE aka COCA-COLA LONDON EYE
The London Eye is a cantilevered observation wheel on the South Bank of the River Thames in London. It is Europe's tallest cantilevered observation wheel, and is the most popular paid tourist attraction in the United Kingdom with over 3.75 million visitors annually, and has made many appearances in popular culture.
Address:
Lambeth, London SE1 7PB, UK
Alternative names: Millennium Wheel
Did you know: When it was built, in 1999, it was the tallest Ferris wheel in the world.
3. ST. PAUL'S CATHEDRAL
ST. PAUL'S CATHEDRAL
St Paul's Cathedral, London, is an Anglican cathedral, the seat of the Bishop of London and the mother church of the Diocese of London. It sits on Ludgate Hill at the highest point of the City of London and is a Grade I listed building.
Address:
St. Paul's Churchyard, London EC4M 8AD, UK
Construction started: June 1675
Dome height (outer): 278ft (85m)
Reservations: bookatable.co.uk
Architects: Christopher Wren, Nicholas Hawksmoor
Architectural styles: Renaissance architecture, English Baroque
Did you know: Queen Elizabeth II held thanksgiving services for both her Diamond and Golden Jubilees in St. Paul's.
4. HOUSE OF PARLIAMENT aka PALACE OF WESTMINSTER
HOUSE OF PARLIAMENT aka PALACE OF WESTMINSTER
The Palace of Westminster serves as the meeting place of the House of Commons and the House of Lords, the two houses of the Parliament of the United Kingdom.
Address: Westminster, London SW1A 0AA, UK
Architectural style(s): Perpendicular Gothic Revival
Architects: Charles Barry, Augustus Pugin
The Houses of Parliament, composed of the House of Lords and the House of Commons, fill the massive Palace of Westminster.
Guided and self-guided tours (which come highly recommended by recent travelers) take visitors through multiple areas of the building, including Westminster Hall (the oldest building on the Parliamentary estate), the House of Commons Chamber and the Royal Gallery, to name a few.
If you're not interested in perusing the halls that make up the U.K.'s governing body, many travelers say that simply admiring the iconic structure's impressive exterior is enough, and an absolute must-do for anyone visiting London.
Did you know:
Westminster Palace is an example of Gothic Revival architecture.
5. BUCKINGHAM PALACE
BUCKINGHAM PALACE
Buckingham Palace is the London residence and administrative headquarters of the monarch of the United Kingdom. Located in the City of Westminster, the palace is often at the centre of state occasions and royal hospitality. It has been a focal point for the British people at times of national rejoicing and mourning.
Address:
Westminster, London SW1A 1AA, UK
Construction started: 1703
Architects: John Nash, Aston Webb, Edward Blore, Thomas Cubitt, William Winde
Did you know: Buckingham Palace has served as the London residence of the U.K.'s sovereigns since only 1837.
6. WESTMINSTER ABBEY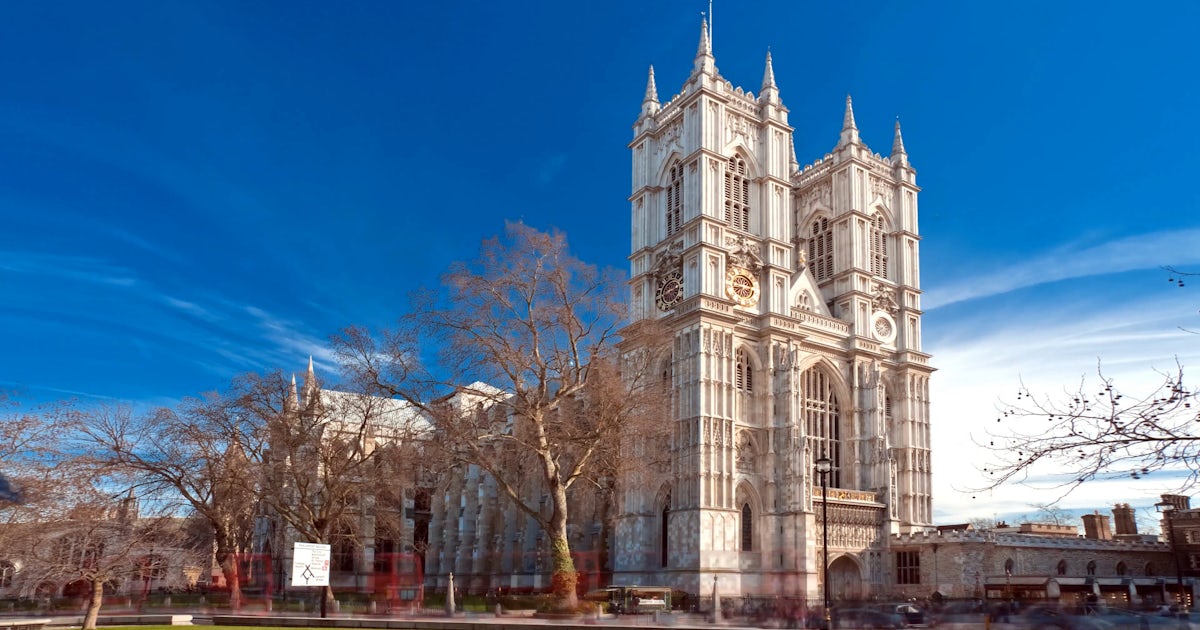 WESTMINSTER ABBEY
Westminster Abbey, formally titled the Collegiate Church of Saint Peter at Westminster, is a large, mainly Gothic abbey church in the City of Westminster, London, England, just to the west of the Palace of Westminster.
Address:
20 Deans Yd, Westminster, London SW1P 3PA, UK
Architectural style: Gothic architecture
Denomination: Church of England
Architects: George Gilbert Scott, Nicholas Hawksmoor, John of Gloucester, Henry of Reyns, Henry Yevele, Robert of Beverley
Burials: Stephen Hawking, Isaac Newton, Mary, Queen of Scots, MORE
Did you know: Regular worship takes place daily at Westminster Abbey and all are welcome to attend.
7. THE BRITISH MUSEUM
THE BRITISH MUSEUM
The British Museum, in the Bloomsbury area of London, United Kingdom, is a public institution dedicated to human history, art and culture. Its permanent collection of some eight million works is among the largest and most comprehensive in existence, having been widely sourced during the era of the British Empire.
Address: Great Russell St, Bloomsbury, London WC1B 3DG, UK
Architects: Robert Smirke, Sydney Smirke, John Russell Pope, John James Burnet, Spencer de Grey, John Taylor
Architecture firms: Foster + Partners, Rogers Stirk Harbour + Partners, BuroHappold Engineering
If you want a little help navigating the museum's 8 million objects, consider tagging along on a guided tour. Several, including the daily eye-opener tours and weekly lunchtime gallery talks and Friday evening spotlight tours are free. You can also book a highlights and special early morning tour for 14 pounds (around $20) and 30 pounds (less than $45), respectively. Audio guides, which cost 7 pounds (less than $10), are also available to rent daily.
The British Museum is both an architectural beauty and a trove of some of the world's most noted antiquities. In fact, many travelers it's the best museum in all of London. What's more, it's free to visit. From the Rosetta Stone to the Elgin Marbles to the Lindow Man, the British Museum is a history buff's dream containing artifacts in the millions. The immense collection can make an initial museum visit seem overwhelming: Pick the exhibits that most interest you, and plan return trips if you feel so inclined.
Did you know: Important discoveries by people working for the British Museum included the Mausoleum of Halicarnassus by Charles Newton in 1857 and the Temple of Artemis in the year 1869
8. TOWER BRIDGE
Tower Bridge is a combined bascule and suspension bridge in London, built between 1886 and 1894. The bridge crosses the River Thames close to the Tower of London and has become an iconic symbol of London. Because of this, Tower Bridge is sometimes confused with London Bridge, situated some 0.5 mi upstream.
Address:
Tower Bridge Rd, London SE1 2UP, UK
Construction started: 21 June 1886
Location: London Borough of Southwark, London Borough of Tower Hamlets
Did you know:
Over 40000 people use Tower Bridge every day.
primaryfacts.com
9. PICCADILLY CIRCUS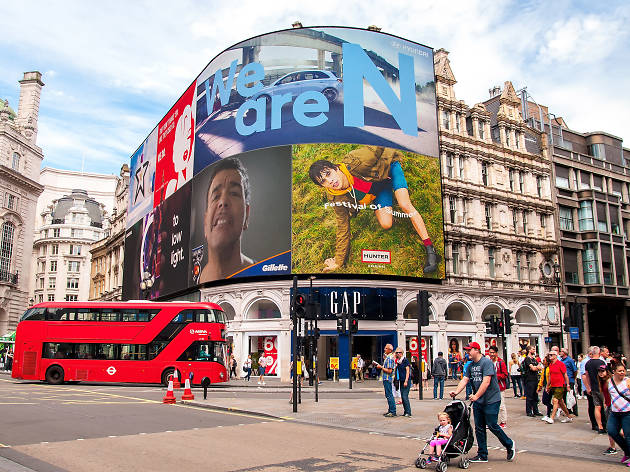 PICCADILLY CIRCUS



Piccadilly Circus is a road junction and public space of London's West End in the City of Westminster. It was built in 1819 to connect Regent Street with Piccadilly. In this context, a circus, from the Latin word meaning "circle", is a round open space at a street junction.
Roads at junction: Regent Street, Shaftesbury Avenue, The Haymarket, Coventry Street and Glasshouse Street
London borough: City of Westminster
Did you know: The closest Underground station is Piccadilly Circus, which is serviced by the Bakerloo and Piccadilly lines.
10. THE NATIONAL GALLERY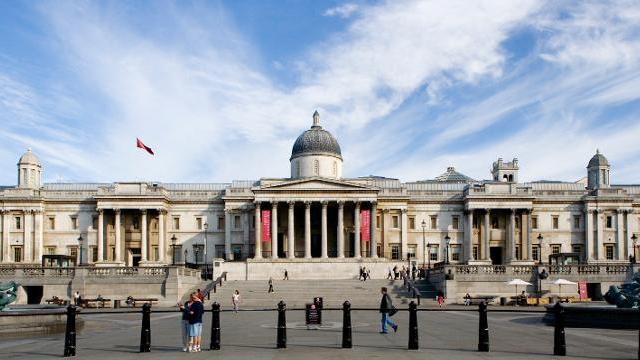 THE NATIONAL GALLERY
The National Gallery is an art museum in Trafalgar Square in the City of Westminster, in Central London. Founded in 1824, it houses a collection of over 2,300 paintings dating from the mid-13th century to 1900.
Address: Trafalgar Square, Charing Cross, London WC2N 5DN, UK
Director: Gabriele Finaldi
Architects: Denise Scott Brown, William Wilkins
Did you know: It was the first major American painting to be purchased by the Gallery.
Did you like this article? Please help us spread it by sharing with your friends!
Frequently Asked Questions (FAQs) About London
Is London part of England or UK?
London is one of the most diverse and cosmopolitan cities in the world; but where is it actually located? London is the capital city of England and is located in the south east of the country. Although a country in its own right, England is also part of the United Kingdom alongside Northern Ireland, Scotland and Wales


What is London famous?
London is famous for Big Ben, Buckingham Palace, British Museum, and Tower Bridge. London is also known for its rich history, double-decker buses, red phone booths, world-class museums and galleries, gigantic lush parks, financial districts, and cosmopolitan vibes.


Is London a city or country?
London, city, capital of the United Kingdom. It is among the oldest of the world's great cities—its history spanning nearly two millennia—and one of the most cosmopolitan. By far Britain's largest metropolis, it is also the country's economic, transportation, and cultural centre.


How old is London?
The history of London, the capital city of England and the United Kingdom, extends over 2000 years. In that time, it has become one of the world's most significant financial and cultural capital cities.


What is London's nickname?
The Big Smoke: Probably the most famous is The Big Smoke, The Old Smoke, or simply The Smoke. These names refer to the dense fogs and smogs that would permeate the city from ancient times.
IMPORTANT NOTE: The rates, contact details and other information indicated in this post are accurate from the time of writing but may change without IMFWJ's notice. Should you know the updated information, please let us know by leaving a message in the comment box below.
WHERE TO STAY IN LONDON:
London Hotels & Resorts
|
London Room for Rent
places to visit in london for free places to visit in central london london attractions map new attractions in london london sightseeing bus places in london to live tourist attractions uk paid attractions in london