Every couple dream of having a romantic vacation. Philippines should be on your list. But is there any other place in this archipelago than the famous and prestige Boracay?
I'm so lucky to be born a Filipino in this archipelago country that offers beautiful places to discover. The
Philippines
is indeed blessed to have these jaw dropping sights to see.
1. Cebu
Easy access to untouched islands and pristine
beaches
for a cosmopolitan destination is Cebu's trademark. Despite being regarded as a bustling city like Metro Manila,
Cebu
barred it as it has the most numbers of resort and spas in the country; and one of the Philippines' top tourist spots all year round.
Temple of Leah, CEBU CITY
Hotel resorts
are widely visited by couples who enjoy spending their time together through relaxing in the quiet and soothing pampering offered by these hotels' in-house spas. With the range of selections, from luxurious to budget friendly accommodations, Cebu is truly a perfect romantic destination.
Tourist spots to visit in Cebu: Kawasan Falls, Bantayan Island, Temple of Leah, Sumilon Island
2. Bohol
Alona Beach, BOHOL
Besides its famous Chocolate Hills and Tarsiers,
Bohol
is one humble romantic getaway, especially to couples who have a heart for nature and thrilling adventures.
Bohol beaches are more laid back, as compared to other more popular beaches in the country, which give couples a more intimate time together and maybe have a romantic dinner near the shore.
Tourist spots to visit in Bohol: Chocolate Hills, Panglao Island, Loboc River, Bohol Bee Farm
3. Batangas
Without having to travel too far from Manila,
Batangas
is an accessible getaway, with romantic spots and activities to compete with the farther regions from the Metro. Aside from your typical dinner, waiting for the sun to shine or set with the one who owns your heart is a very intimate moment everyone wants to experience.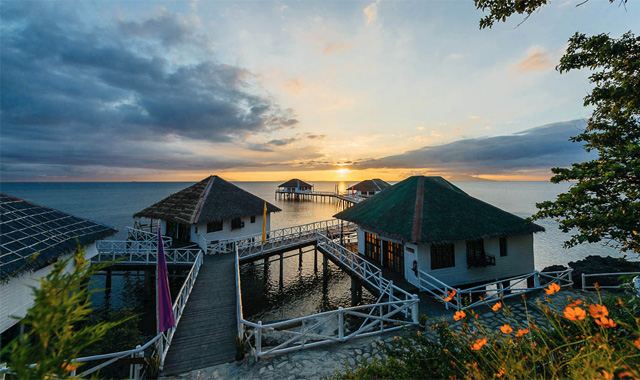 Stilts Calatagan, BATANGAS
In Batangas, you may camp out near the summit of a mountain—Taal, Batulao, and Maculot to name a few—which are all within your skills, to watch the sun rise through the clouds.
4. Tagaytay
Casa Alegria, TAGAYTAY
This too is a near destination for people from the Metro. But you'll be surprised how its air is never contaminated by Manila's pollution. And the cool wind that bites through your skin? A good excuse to get all cuddly with your loved one, whilst having a panoramic view of the Taal Lake and Volcano.
But a more ideal escape for most lovers would be
Sonya's Garden
that blends in a unique combination of English and Asian cultures, covered by rare flowers. Share quiet moments while being served an excellent meal and get a refreshing massage.
ATTRACTIONS TO SEE IN MANILA
5. Baguio
The summer capital of the Philippines has been bombarded with local and foreign tourists, yet it still remained on the top notch of romantic getaways. Also proclaimed itself the City of Lovers,
Baguio
made sure their title will not be put to shame.
Now, when it comes to a particular destination in the city, The
Manor Hotel
in
Camp John Hay
has got to be the most romantic. It is not only an inexpensive getaway; its pine tree-lined roads and fine landscaping are a perfect unwinding location for couples.
Where to stay in Baguio:
Cedar Peak Condominium, Austrianne Residences, Hotel Veniz, See more top-rated hotels and resorts in Baguio!
ACTIVITIES AND TOURS IN MANILA
6. Palawan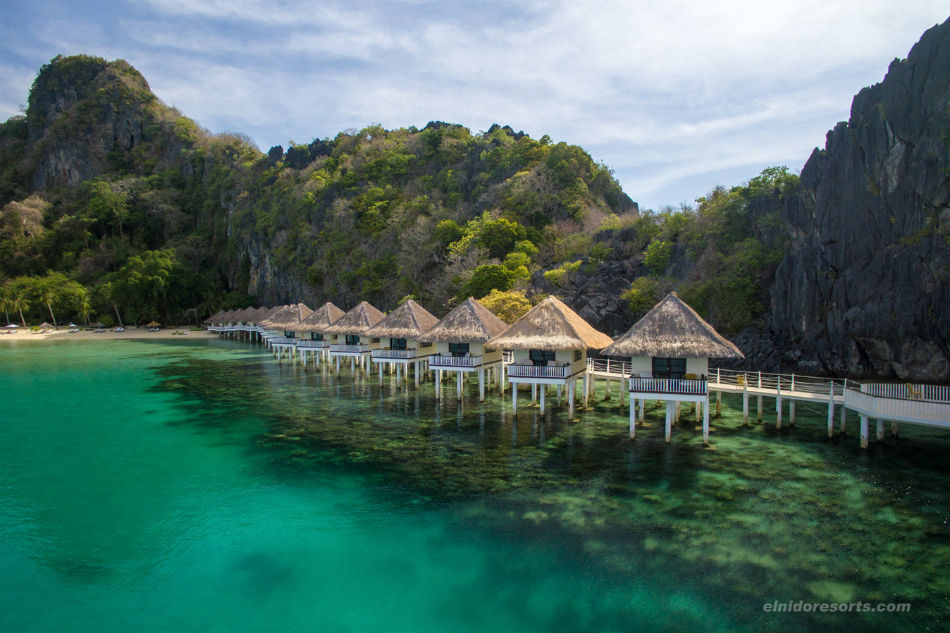 El Nido, PALAWAN
Palawan
has many romantic retreats on its list, thus making it the top choice. An unassuming destination yet has more than enough to offer, it guarantees all lovers' seclusion within private islands.
Two names stand out when Palawan speaks of its romantic places:
El Nido
and Amanpulo Resort in Pamalican Island. And while both are perfect getaways for lovers, each suggest a whole different budget.
Tourist spots to visit in Palawan: Puerto Princesa Underground River, Kayangan Lake (Coron), Nacpan Beach (El Nido)
I hope this list of mine has helped you decide where to go next in the Philippines with your love one!
SAVE THIS PIN FOR LATER
ROMANTIC ACTIVITIES TO DO FOR COUPLES
Here's a list of things you can enjoy as couples in Metro Manila and nearby places: