Rizal province is known for its artists and there is one place in Antipolo that I know you can find their works. ;)
ABOUT PINTO ART MUSEUM
Pinto Art Museum (PAM) is an assemblage of over 300 modern paintings, sculptures, and art installations by various local artists. It is located at 1 Sierra Madre St., Grand Heights, Antipolo, Rizal. Pinto, the Filipino word for door, serves as the gateway for modern and contemporary art.
PAM is a project of Silangan Foundation for Arts, Culture, and Ecology, a non-profit organization dedicated to promoting Philippine arts and culture. The foundation is being led by neurologist Dr. Joven Cuanang. He, who is deeply rooted in his inclination to Filipino's artistic prowess, has accumulated a number of artworks in his personal collection. He acquired a modest house and lot in the 70s and opened the Pinto Gallery around 2000.
When he launched the gallery, he poured his own personal wealth into the museum to perform a civic duty for the Filipino people. He aims to promote education and appreciation for art and culture.
Coleen of www.colololz.com
The museum's overall mission is to champion conservation of nature, education of the Filipino people, and opening doors for talented artists. Antonio Leaño is the museum director, museum designer, and contributing artist, while Mikey Blanco is the museum manager.
OPEN HOURS
Tuesday - Sunday, from 9:00 A.M. to 6:00 P.M.
ENTRANCE FEE
P200 regular
P100 student
www.colololz.com
HOW TO GET TO PINTO ART MUSEUM
Take the route going to Marikina. Drive along Marcos Highway heading to Antipolo.
Turn right at Felix Avenue.
Turn left at Ortigas Avenue Extension.
Turn left at the rotunda leading to either Antipolo or Taytay Diversion Road.
Follow the Ortigas Avenue Extension road until you reach the L. Sumulong Memorial Circle.
Look for the sign on the right side of the road which points to Grand Heights and Pinto Art Museum.
Take the LRT Line 2 and get off at the Santolan Station.
Take a jeepney or FX bound for Antipolo (Antipolo-Simbahan-Junction or Antipolo-Shopwise), Tanay (Tanay-Antipolo), or Teresa.
Get off at Ynares Center.
Ride a tricycle going to Grand Heights Subdivision.
Ride a jeep or FX going to Antipolo at a terminal at the Greenfield District Area or at the SM Megamall parking area.
Get off at Ynares Center.
Ride a tricycle going to Grand Heights Subdivision.
TIPS
The museum prohibits food, pets, smoking, and the use of flash when taking pictures.


CONTACT
Address: 1 Sierra Madre St.,, Grand Heights Rd, Antipolo, Rizal
Hours & Days open: 9am-6pm | Tuesdays- Sundays
Phone: (02) 697 1015
MORE PICS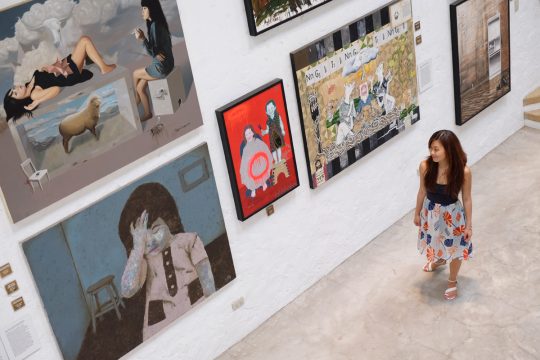 pinoyfitness.com
TripAdvisor
Jotan23
My Bittersweet Cafe
The Golden Record

Have you already visited this place? Share us your story below.

Where to Stay in Antipolo?
Where to Go Next?
IMPORTANT NOTE: The rates, contact details and other information indicated in this post are accurate from the time of writing but may change without IMFWJ's notice. Should you know the updated information, please message us on Facebook.
WHERE TO STAY IN ANTIPOLO:

why is it called pinto art museum pinto art museum schedule 2020 pinto art museum prenup rates 2019 pinto art museum paintings meaning pinto art museum owner pinto art museum location pinto art museum how to get there pinto art museum history