Tayo na sa Antipolo!

This city is one of favorite destinations outside Metro Manila because of two things: easy to travel to and cool weather. In fact it is just a few minutes away from Pasig and Marikina. That's why me

In this guide, we feature 10 best things to do around
Antipolo City
in Rizal.
ABOUT ANTIPOLO CITY
Antipolo is a city east of Manila in the Philippines, a 1st class city and the capital city of the province of Rizal, Philippines.
Map of Antipolo City



It's known as a Catholic pilgrimage site. In the Antipolo Cathedral, the shrine to Our Lady of Peace and Good Voyage has a 17th-century statue of the Virgin Mary, and attracts thousands of visitors each year.
Here are the 10 things you shouldn't miss in Antipolo:
Visit Antipolo Cathedral
Appreciate Artworks at Pinto Art Museum
Relax at Luljetta's Hanging Gardens & Spa
Cross Cloud 9's Hanging Bridge
Amazed With Mystical Cave
Re-discover Hinulugang Taktak
Visit Boso Boso Church
Appreciate Mount Purro Nature Reserve
Buy Pasalubong Antipolo City
Watch The Sunset
RELATED: 6 Tourist Spots to visit for your Antipolo Itinerary!
Visit Antipolo Cathedral
Antipolo Cathedral


First off, Antipolo City is known for being a Catholic city and thousands of people march here during the Holy Week and called it "alay lakad". It is also ideal to visit the church first because it's very accessible when you commute.
Our
Lady of Peace and Good Voyage
, also known as
Our Lady of Antipolo
and
the Virgin of Antipolo
, is a 17th-century Roman Catholic wooden image of the Blessed Virgin Mary venerated in the Philippines.
Address: Dela Paz St, Antipolo, 1870 Rizal
Mass Schedule:
Sunday A.M. Session

5:00, 6:00, 7:00, 8:00, 9:00, 10:00, 11:00



Sunday P.M. Session

3:00, 4:00 (Children's Mass), 5:00, 6:00, 7:00, 8:00 (English Mass)
Appreciate Artworks at Pinto Art Museum
Pinto Art Museum
Pintô Art Museum
is an exhibition space and contemporary museum located in the Philippines' historic pilgrimage city of Antipolo outside of Manila.
A visitor says, "It's relaxing, it's a mind enrichment place with a beautiful atmosphere. People dress so nice for the photos.. food are okay . It's an excellent choice when u want to explore Antipolo. Art is definitely everywhere and so much.. I just wish I have money to buy those lamp.. Hello!!"
Address: 1 Sierra Madre St, Grand Heights Subdivision, Antipolo, 1870 Rizal
Hours: 9AM to 6PM Tuesday to Sunday
Phone: (02) 8697 1015
Relax at Luljetta's Hanging Gardens & Spa
The best place in Antipolo for relaxation, unwinding, and relieving stress? Luljetta's is a top choice in Antipolo City.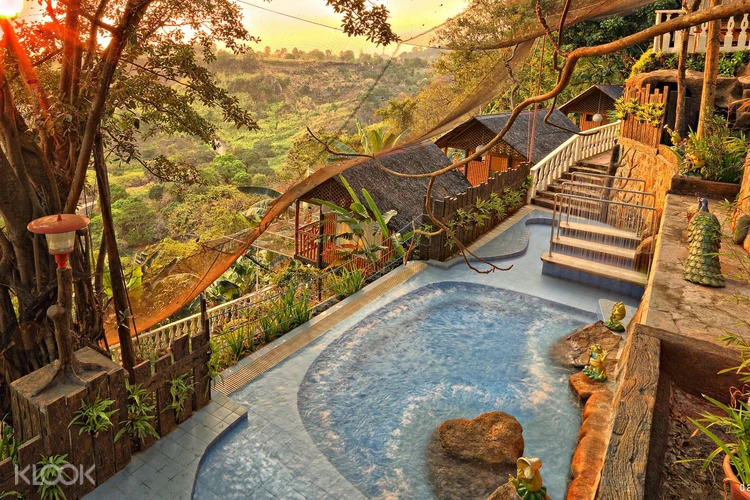 Luljetta's Hanging Gardens & Spa



What to try: body massage spa, fish spa, relax at the lounge area, sauna and hot tub, swimming at the pool and enjoy the view! BOOK A DAY TOUR


Located in: Loreland Farm Resort
Address: Sitio Loreland, Barangay, Antipolo, 1870 Rizal
Hours: Open today·10am–9pm
Phone: (02) 8570 2532
Cross Cloud 9's Hanging Bridge
What about a 360 view of the city of Antipolo with a thrill? Cloud 9's Hanging Bridge has become famous spot here since it gives you a breathtaking view of the city's green area.
Cloud 9 Antipolo



Set in the lush hills along Sumulong Highway, this tranquil nature resort is 5 km from Hinulugang Taktak park and Jardin de Miramar.

Cloud 9 Sports and Leisure Club

Address: Bgy. Sta. Cruz, Sumulong Hwy, Antipolo, 1870
Phone: 0917 800 4324
Where to Stay in Antipolo?
Amazed With Mystical Cave
Mystical Cave is a show cave with guided tours through stalactites, stalagmites & other intricate limestone formations. It is maintained by Inday Nelly.

You can see here many religious and holy stalagmite and stalactite formed by water. From the name itself, "Mystical" because of the holy images found inside the cave. The water and stone inside the cave is said to be precious because it can heal sick people and can protect you from harm. They believe that the stone inside the cave can be your "anting-anting".
Mystical Cave



This place is said to be religious, because of the rocks that forms different images of Jesus, Adam and Eve, Nazarene, Mama Mary, Pieta, Holy Trinity, St. Peter, St. Bernadette and many more. And of course the holy water and precious water that drips of to the cave can heal people.

This place is famous for the other filmmakers. This place was used from the movies like, Enkantadia, Pedro Penduko, Spirit Warriors, Dyesebel, Marina and Asian Treasure are some of the movies that are filmed inside the cave.

Address: 25 Masinag Marcos Highway, Antipolo, 1870 Rizal
Re-discover Hinulugang Taktak
Hinulugang Taktak
Chasing waterfalls? No problem, Antipolo is known for having a lot of it. One of the famous spots and easy to travel to is Hinulugang Taktak. It is located near the road so you won't need to walk or trek for hours just to see this.
Hinulugang Taktak Protected Landscape, also known as Hinulugan Taktak, is a protected area located in Rizal, Philippines. Initially assigned as a recreation area, the waterfall area has been designated as a national park by virtue of Republic Act No. 6964 in 1990.

Address: Taktak Rd, Antipolo, 1870 Rizal
Opening hours: 8:00 am to 5:00 pm, Monday to Sunday

Visit Bosoboso Church
Bosoboso Church



The Nuestra Señora de la Annunciata Parish Church, also known as Bosoboso Church or Boso-Boso Church, is a Roman Catholic parish church located in Sitio Old Boso-Boso, Barangay San Jose in Antipolo, Rizal, Philippines.

It is one of the oldest churches in the Philippines. The first church was built as a mission church by the Franciscan missionaries in 1669. Originally, it served the Dumagat people of Lanatin and Linotan in the mountains of modern-day Rizal province.
The Jesuits eventually took over the mission and the church in 1741. It was turned over to the seculars in 1768 when the Jesuits were expelled from the Philippines.
Appreciate Mount Purro Nature Reserve
Mt. Purro Nature Reserve was built on the humble lands of Antipolo by the heart and hands of the Dumagat Tribe. This place and the movement to plant more trees in the balding mountains of Sierra Madre was inspired by Toto Malvar's dream to save the environment, create sustainable livelihoods, and share their stories.

Address: Barangay Calawis, Antipolo, 1870 Rizal
Phone: (02) 8542 3005



Buy Pasalubong Antipolo City
There are many delicacies in Antipolo like Kasoy, Suman, Mangga, Balimbing, Coco Jam, Latik, Kalamay, Adobong Kasoy and many more. Many people buy in Antipolo some "pasalubong" after the mass at Antipolo Cathedral.
Suman sa Antipolo



Suman is one of the best delicacies in Antipolo. Suman is made of rice, but it's not an ordinary rice. It's called "malagkit". Suman is one of my favorite delicacies in Antipolo especially when you put sugar on it.
Where to buy: there are stalls that sold suman and other kakanin near Antipolo Cathedral

Watch The Sunset
Overlooking Manila



What about a beautiful view to end the day? Antipolo is blessed with an overlooking view of Metro Manila and has a vantage point of sunset.
Where to Go Next?
IMPORTANT NOTE:
The rates, contact details and other information indicated in this post are accurate from the time of writing but may change without IMFWJ's notice. Should you know the updated information, please message us on
Facebook
.
WHERE TO STAY IN ANTIPOLO:
Antipolo resorts Antipolo tourist spot Antipolo overlooking Antipolo barangays Antipolo Metro Manila History of Antipolo Kasaysayan ng Antipolo outdoor activities in antipolo antipolo cathedral antipolo tourist spot 2022 antipolo tour package instagrammable places in antipolo antipolo overlooking antipolo site antipolo church