Where to go in Antipolo? Here are the 6 tourist spots you must visit!
ANTIPOLO CITY
is blessed with many attractions and natural wonders, reasons why many are fond of going back and forth of the city the fact that it is just a few hours away from the metropolitan Manila.
I, myself have been to this city in
Rizal
for a few times and there's a lot to explore in this city just a few minutes away from metro east Manila.
If you are looking for fun and exciting activities, Antipolo is a perpect place to visit in.
Here, I list the top 6 places to visit in Antipolo City:
WHAT TO BRING FOR ANTIPOLO, RIZAL
Here are some things you might consider bringing with you for your day tour / adventure:
Shopee
is my go-to app for things I needed like the ones above. If you'd like
discounts and vouchers
, you may get the best offers here:
1. Cloud 9 Hanging Bridge and 360 View Deck
Known for its Hanging Bridge and 360 View Deck,
Cloud 9 Antipolo
is best option to start (or end) your weekend trip!
Cloud 9 is one of the best places to go in Antipolo for team buildings or group retreat. The place is spacious, there are a lot of outdoor team building activities that your group will surely enjoy.
READ MORE
Address: Bgy. Sta. Cruz, Sumulong Hwy, Antipolo, 1870
Phone: 0917 800 4324
Entrance Fee: Php 70.00
2. Luljetta's Hanging Gardens and Spa
Luljetta's Hanging Gardens and Spa
is the
best place in Antipolo for relaxation, unwinding, and relieving stress. The staff are accommodating and polite, the place is very quiet during the night.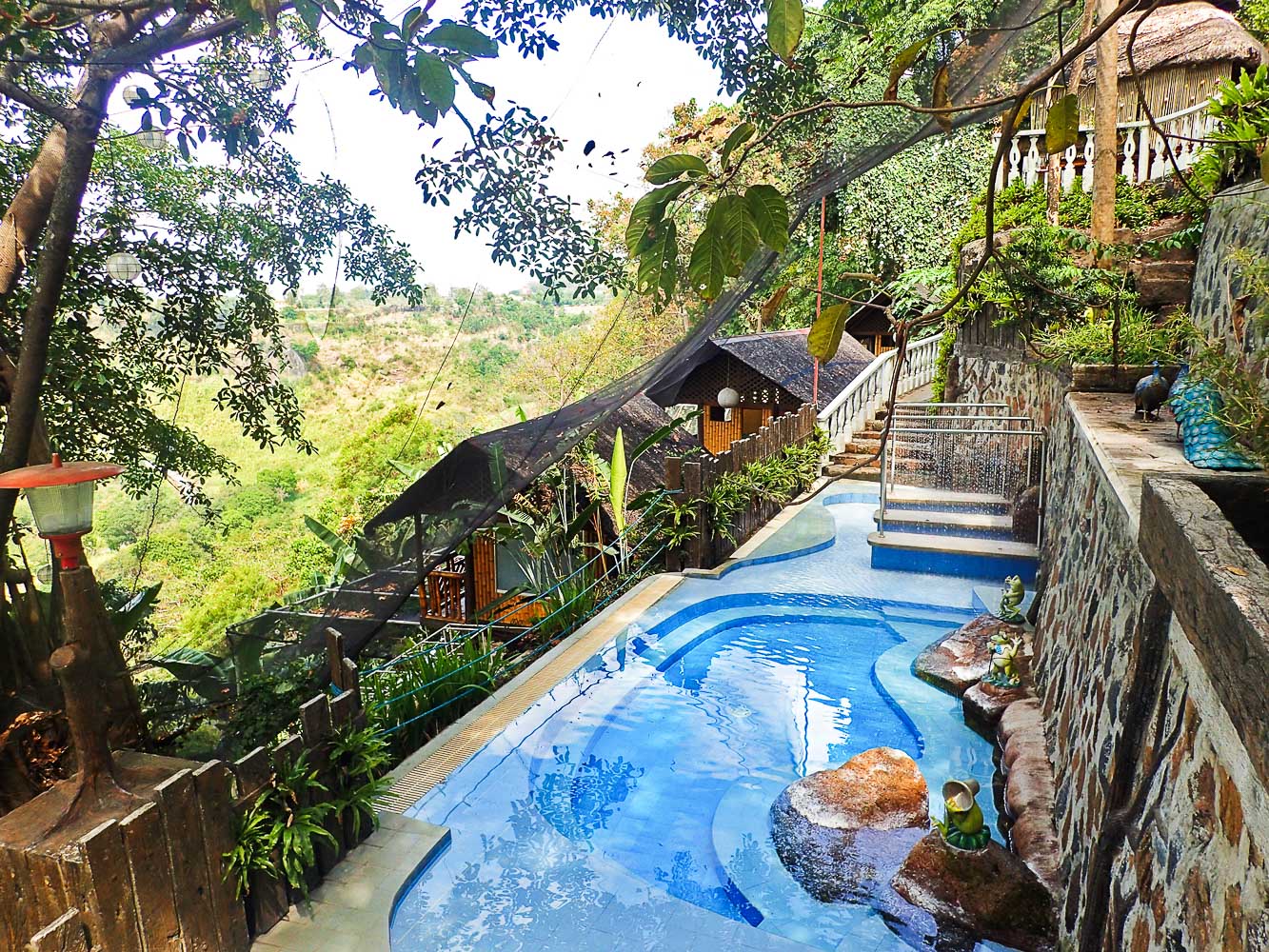 Luljetta's Hanging Gardens and Spa
Located in: Loreland Farm Resort
Address: Sitio Loreland, Barangay, Antipolo, 1870 Rizal
Hours: Open today·10am–9pm
Phone: (02) 8570 2532
3. Pinto Art Museum
Pinto Art Museum
is one of the places that you should visit when you're in Antipolo. There are lots of sculptures and paintings that are expertly made.
After picture taking, you may try their stunning restaurant which presents delicious dishes that will deteriorate your tiredness.
READ MORE
Address: 1 Sierra Madre St, Grand Heights Subdivision, Antipolo, 1870 Rizal
Hours: 9AM to 6PM Tuesday to Sunday
Phone: (02) 8697 1015
4. Mount Purro Nature Reserve
Mount Purro Nature Reserve
is a family-run eco-park, tucked away in the foothills of the Sierra Madre Mountain Range, near Metro Manila,
Philippines
.
The place has many indoor and outdoor activities. It is a good place for team building, or any other occasions for your family. It is a simple yet distinct sustainable travel destination. It advocates God, Nature and People as true measures of personal and community development.
Address: Barangay Calawis, Antipolo, 1870 Rizal
Phone: (02) 8542 3005
ATTRACTIONS TO SEE IN MANILA
5. Our Lady of Peace and Good Voyage
Of course, Antipolo is known for its church. Our Lady of Antipolo Shrine is a popular pilgrimage site for travelers.
Our Lady of Peace and Good Voyage
The place is accessible, and the outside of the church has a lot of vendors that sells native Antipolo delicacies.
Address: Dela Paz St, Antipolo, 1870 Rizal
Phone: (02) 8571 7347
6. Hinulugang Taktak
Hinulugang Taktak is a national waterpark located in Antipolo. It is famous for its waterfalls, and many people used to bathe in it.
Hinulugang Taktak
But due to the rapid development of the city, the water became dirty. You can still enjoy the park and have a wonderful time with your friends and family.

Address: Taktak Rd, Antipolo, 1870 Rizal
Phone: 0930 409 2723


ACTIVITIES AND TOURS IN MANILA
And that's our list of places to visit in Antipolo, Rizal. Why not end it with this stunning sunset view at one of the
coffee shops
/ restaurants in the area?
Overlooking Metro Manila with beautiful sunset
Where to Stay in Antipolo?
Check out these hotels and staycation in Antipolo:
Frequently Asked Questions (FAQs) About Cloud 9 Antipolo
Where can I go for a day trip in Antipolo?
Here are the 10 best Antipolo places to visit for your quick getaway!

Hinulugang Taktak
Pinto Art Museum
Cloud 9
Luljetta's Hanging Gardens Spa
Antipolo Cathedral

Mount Purro Nature Reserve
Is Antipolo still part of Manila?
In 1975, it became part of Metro Manila and the capital and the seat of government remained in Pasig until 2009 when the provincial capitol was transferred to Antipolo with the new buildings as mentioned.


How would you describe Antipolo City?
Antipolo lies at the foot of the Sierra Madre—the longest mountain range in the Philippines—that plays host to evergreen forests and waterfalls. One of these is even considered a renowned landmark in Rizal, the Hinulugang Taktak. Known for its beauty and majesty, the 21-meter-high waterfalls are a sight for tourists.


Why is Antipolo famous?
It prides itself as the "Pilgrimage Capital of the Philippines". The Marian image of the Our Lady of Peace and Good Voyage or the Virgin of Antipolo, which was brought in from Mexico in 1626, and enshrined in the Antipolo Cathedral has a continuous following among Filipino Catholics since the Spanish colonial era.


Is Antipolo part of Sierra Madre?
Antipolo, city, central Luzon, Philippines. Lying 12 miles (19 km) east of Manila in the Sierra Madre foothills, it was founded in 1578. Antipolo is the home of the icon of Nuestra Señora de la Paz y Buen Viaje ("Our Lady of Peace and Safe Voyage").


Is it colder in Antipolo?
The cool season lasts for 2.6 months, from November 26 to February 14, with an average daily high temperature below 87°F. The coldest month of the year in Antipolo is January, with an average low of 73°F and high of 85°F.


How high is Antipolo?
156 masl
IMPORTANT NOTE:
The rates, contact details and other information indicated in this post are accurate from the time of writing but may change without IMFWJ's notice. Should you know the updated information, please leave a comment below
.
WHERE TO STAY IN RIZAL:
staycation in antipolo with pool where to stay in antipolo antipolo tour package antipolo resorts things to do in antipolo best private resort in antipolo cloud 9 antipolo luljetta's hanging gardens and spa