This is the answer to your "where to eat in Pasig?"
Pasig City houses hundreds of restaurants and food corners that offer different gastronomic experience not only to its residents but their visitors.
I resided in Pasig for 3 years and I am happy to explore the city in a short time span. I discovered a lot from its history, politics, traffic problems and most of all - FOOD. Yes, I don't stop looking for new places to eat especially when I learned that this city in the Metro East has a lot to offer.
where to eat in pasig, cheapest restaurant in pasig, restaurants in c raymundo pasig, food hub in pasig, murang kainan sa pasig, affordable restaurants in ortigas, restaurants in pasig with function rooms, kapitolyo restaurants, best carinderia in pasig, kapitolyo eats
Here, I list the different foodtrips in Pasig from the budget-friendly to the high-end eats in the city:
People in Pasig were in love with their famous Takoyaki since they've opened their first stall in Kapasigan (Pasig city proper). The success of their first store made the owner decide to open up another branch in the nearby barangay in Pasig. [ READ MORE ]
For only P299 you can enjoy UNLIMITED Samgyeopsal!! Yes bes, unlimited!! Pati side dish at rice unlimited!! [ READ MORE ]
ROKE RAMEN (MAYBUNGA)
Roke Ramen
is a new ramen place in Pasig. Although it's a newbie in the industry, it already attracted and satisfied many people.
LA LOCA MEXICAN CANTINA (MAYBUNGA)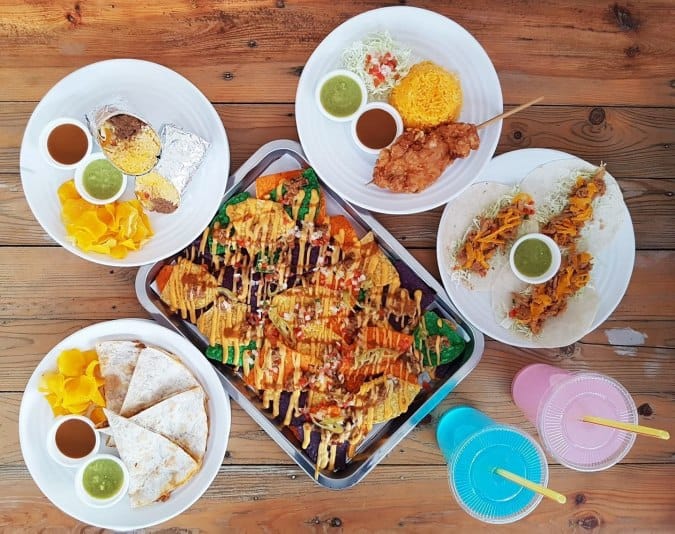 LA LOCA MEXICAN CANTINA (MAYBUNGA)
Are you looking for a real MEXICAN FOOD EXPERIENCE?? Then you must try and visit here. La Loca Mexican Cantina​ is known for its very own signature salsa.
ROMY & MARITAS PANCIT MALABON HOUSE (CARUNCHO AVE.) Photo by Taga Pasig Kami
Your pancit malabon fix in Pasig. READ MORE
Feel the Persian taste of Kabab and Biryani.
READ MORE
Here you can find the most authentic Japanese food in Pasig. Their food is very affordable. Imagine a serving of 3 Takoyaki for only P30.00!
READ MORE
Boneless lechon belly and more! [
READ MORE ]
A Computer Shop Turned Into a Cafe in Kapasigan. [
READ MORE ]
This restaurant brings you the Taytay's rice-based delicacy - KINAMAT. [
READ MORE ]
Last year, we found this small cafe in Pasig along Dr. Sixto Antonio Avenue. They serve Filipino-Mexican food. [
READ MORE ]
Buffalo Swing Cafe is located along Dr. Sixto Antonio Ave near Pag asa St. in Barangay Caniogan, Pasig. Their main dish is their buffalo wings. They also have pasta, pizza, burger and rice meals. [
READ MORE ]
Undiscovered by many, this burger shop is just hiding the busy city of Pasig. [
READ MORE ]
Located at the heart of the old town Pasig, Enzo's burger is one of the most visited food places in the city. [
READ MORE ]
Tony Joe's Famous BBQ is a new (opened in 2017) house for best-tasting ribs and steak in Brgy. Maybunga, Pasig City. [
READ MORE ]
The local versions of chicken wings! [
READ MORE ]
We were in search of the best (if not, a nice) pizza in Pasig. Then, we found this! [
READ MORE ]
MR. UBE (LIFEHOMES)
Chinese cuisine known for it's hopia, dimsum and noodles.
Your best alternative when Kanto Freestyle Breakfast is full and in long queue in Kapitolyo, Pasig. :D
MONA'S TAPSILOG (BAMBANG)
The best tapsilog in Bambang!
CHARING'S HALO-HALO (PASIG MEGA MARKET)
The famous halo-halo place in Pasig!
MANG JOHNNY (KAPASIGAN)
The "Pandesal Man" of Pasig. People are lining up at 2am just to see MJ and eat his signature pandesal!
ALEX LUGAWAN (SAN NICOLAS)
Every Pasigeno knows where to go to find the best lugaw in town!
LORNA B'S (MAYBUNGA)
Your steakhouse along C. Raymundo Avenue in Maybunga.
LEE HAK KOREAN BUFFET (PIONEER)
Your Korean shabu-shabu and grill buffet in Kapitolyo along Pioneer St.
MERIENDA SA KAPASIGAN
If you'd like your place be added in this list, please send your email at contact@morefunwithjuan.com or contact us HERE.


FOOD FEED
zomato.com/KainTayoMNL
facebook.com/KainTayoMNL
instagram.com/KainTayoMNL
youtube.com/KainTayoMNL
MORE ABOUT PASIG
LIKE AND FOLLOW TAGA PASIG KAMI
VISITING PASIG SOON?
IMPORTANT NOTE: The rates, contact details and other information indicated in this post are accurate from the time of writing but may change without IMFWJ's notice. Should you know the updated information, please let us know by leaving a message in the comment box below.
Click here to subscribe to our YouTube Channel.



WHERE TO STAY IN PASIG:
where to eat in pasig, cheapest restaurant in pasig, restaurants in c raymundo pasig, food hub in pasig, murang kainan sa pasig, affordable restaurants in ortigas, restaurants in pasig with function rooms, kapitolyo restaurants, best carinderia in pasig, kapitolyo eats