BLU MINNETTE is a bakeshop cafe that is located along A. Mabini St., Brgy. Kapasigan, Pasig City. It used to be "Ingen Cafe" since it is originally a computer cafe until they've totally change its name.
They offer a variety of baked products from cakes (round), cupcakes, cookies and other pastries. Their whole cake price starts at P650 while a slice of it starts at P70. One of their best sellers is Blueberry Cheesecake.
THE PLACE
Although the store is small and not spacious, it can accommodate up to 28 heads who can dine in with 10 tables. The place is fully airconditioned.
Besides its dining experience, customers can also take advantage of internet rentals. They have more or less 10 computers on the table. But ee haven't tried it their yet.
Store rating: 8/10
It's very accessible. The cafe is just a walk away from McDo, Kapasigan, Pasig Simbahan, PLP and Plaza Rizal. Most of the public utility vehicles pass by the store. Although it's not cozy, you can stay long here. As long as the AC is at good temp.
Staff rating: 8/10
Nothing is special. Their crew can answer your questions and request but there was no extra mile for the customers.
Service rating: 9/10
Almost perfect. I just like the speed of serving the food. It only took roughly 5 minutes for us to get all of our orders. Cool!
THE FOOD
Here are the food we tried during our visit at Blu Minnette:
Oreo Cheesecake slice
Price: P70
Rate: 6/10
Comment: just a typical cheesecake.
Icy Shake Mocha
Price: P69
Rate: 8/10
Comment: sweetness is fair. Amount is fair. Nakukulangan lang ako sa lasa. I was expecting more.
Mango Milkshake (middle)
Price: P69
Rate: 6/10
Comment: we did not taste the mango at first. It's more of "milky milkshake".
THE MENU
Here's their updated menu as of writing: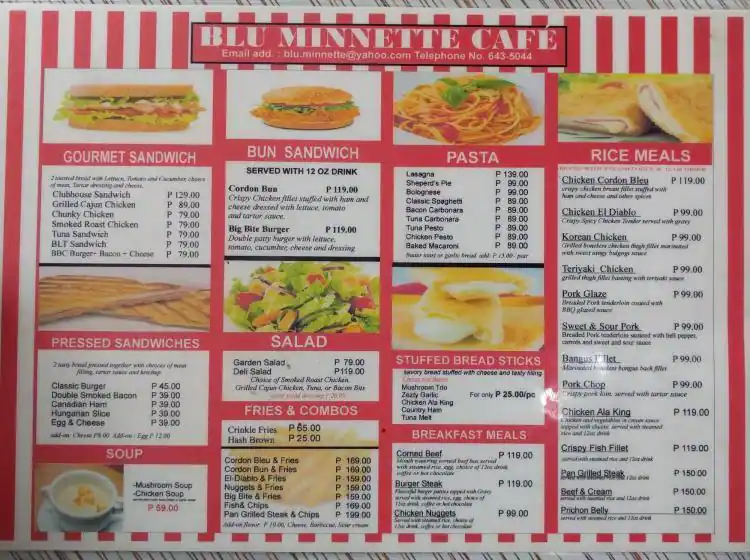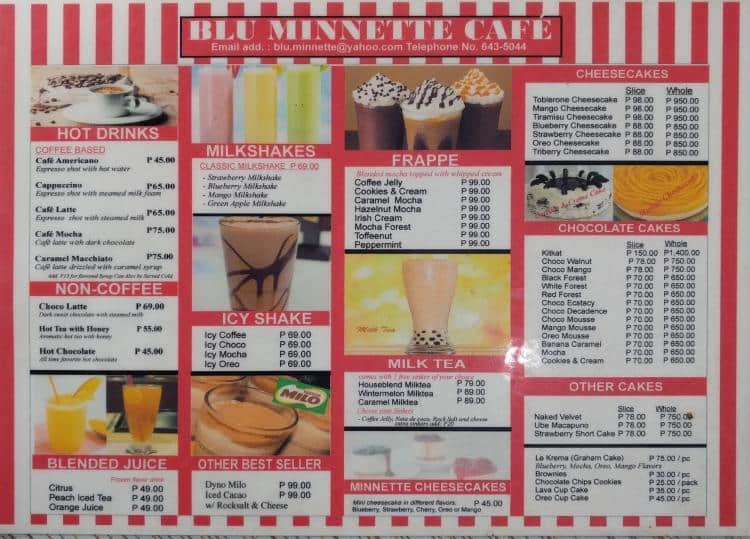 LOCATION AND HOURS
Complete address: 111 A. Mabini Street, Kapasigan, Pasig City.
Opening hours: 8:30AM to 10PM
WHERE TO STAY IN PASIG
WHERE TO NEXT?
Related to Blu Minnette, Kapasigan
Restaurants in Pasig City, Pasig City Restaurants, Kapasigan restaurants, Best Kapasigan restaurants, Pasig City restaurants, Café in Metro Manila, Café near me, Café in Pasig City, Café in Kapasigan, Quick Bites in Metro Manila, Quick Bites near me, Quick Bites in Pasig City, Quick Bites in Kapasigan, New Year Parties in Metro Manila, Christmas' Special in Metro Manila
Have you visited Pasig yet? There's a lot to explore in this city.