Here are some places
in Pasig City
you might not know yet.
Pasig City is one of the cities in Metro Manila with rich history. Today, the city's stories can be witnessed by its architecture and historic landmarks. That's why I love to walk around this city. Everything is nostalgic when you visit these places.
Here are the list of notable places and landmarks in Pasig City:
Pasig Revolving Tower
Pasig Mega Market
Pasig City Hall
Tanghalang Pasigueño
Immaculate Conception Cathedral
Pasig City Museum
Prima 1, 2 and 3
Old Rizal Provincial Capitol
Pamantasan ng Lungsod ng Pasig (PLP)
Rizal High School
Fashion Circle
Panaderia Dimas-alang
Rizal Plaza
Parian River or The Bitukang Manok
Bahay Na Bato
Heritage House of Raymundo Family
Sta. Ana House
Guanio House
Colegio Del Buen Consejo
Pasig Catholic College
Ado's Panciteria
Mary's Infant General Hospital
Rizal Boy Scout Council Headquarters
Pasig Revolving Tower
Formerly the Mutya ng Pasig Tower, Pasig Revolving Tower was built as an 11-storey building in 1974 in an area then covered with rice paddies and some houses. The structure was built near the Mutya ng Pasig public market during the administration of then-Pasig Mayor Emiliano Caruncho Jr.
It features a revolving restaurant on the then-topmost floor, one of the two existing revolving restaurants in the Metro Manila area at that time; the other dining outlet was at the Manila Royal Hotel in Quiapo, Manila which is already defunct.
The old Pasig Revolving Tower in 2010



Mayor Robert Eusebio, an architecture graduate, commissioned an architectural and structural study of the Pasig Revolving Tower in 2006 with the intent of renovating the building.
The study was finished in 2008. Renovation works on the tower began in 2015 under the tenure of Mayor Maribel Eusebio, Robert's wife and an architect.
During the renovation



Majority of the changes was the interior designs per floor and the revolving restaurant was retained on the eleventh floor.
It was finished within 2016, during Robert Eusebio's second non-consecutive term which started in the same year, and was re-inaugurated on November 18, 2016.
Address: Market Ave., Pasig City
Operating Hours: visitation is upon approval of the management
Pasig Mega Market
The Pasig City Mega Market is not only the biggest in the city but one of a few huge wet and dry public markets in Metro Manila.
Pasig City Mega Market
During Wednesdays and Fridays, the market is opens its 3rd floor for tiangge where you can see variety of budget shops that sell apparels, shoes, toys, home-decor and more. You can buy a shirt for as low P50, a bag for P100, a pair of shoes for P300, and many more.
Address: Market Ave., Pasig City
Operating Hours: 6am to 6pm daily, some stores open outside the designated hours
Pasig City Hall
Built under the administration of Mayor Vicente Eusebio, the 6-story building houses the Pasig City local government offices, the council and the office of the mayor.
It also has a rooftop where you can get a nice aerial view of the rest of Pasig.
Address: Caruncho Ave., Barangay San Nicolas, Pasig City
Operating Hours: 8am to 6pm, Monday to Friday
Tanghalang Pasigueño
Tanghalang Pasigueño is a modern building that caters to the culture and the arts of Pasig City. It's the primary venue for events related to the performing arts. It's located at the back of the Pasig City Hall and adjacent to the Pasig Revolving Tower.
Tanghalang Pasigueño
Aside from being Pasig's main venue for culture and the arts, Tanghalang Pasigueño is also rented to the general public.
Address: Pasig City Hall Complex, Caruncho Ave., Pasig City
Operating Hours: visit via reservation
Immaculate Conception Cathedral
Pasig Cathedral, canonically recognized as the Immaculate Conception Cathedral-Parish, is the Catholic church located in Plaza Rizal, Barangay Malinao, Pasig City in Metro Manila, Philippines.
Immaculate Conception Cathedral
It is the mother church, and the episcopal seat of the Diocese of Pasig and one of the oldest structures in the city. The church is considered as one of the oldest churches not only in Pasig but in the Philippines.
Address: Caruncho Ave., Pasig City
Pasig City Museum
The Pasig City Museum is a historic house museum in Pasig, Metro Manila in the Philippines. The museum is housed in the old Concepcion Mansion, owned by the former mayor of Pasig, Don Fortunato Cabrera Concepcion who served from 1918 to 1921.
The first-time I was able to get in to the museum is during my high school days way back in 2004. Since then, the museum was painted a few times with different shades of color.
Address: Plaza Rizal, F. Concepcion, Pasig City
Operating Hours: Monday to Saturday, 8AM to 5PM
Entrance: Admission is free, but donations are accepted
Old Rizal Provincial Capitol
Located at Brgy. Sta.Rosa when Pasig used to be the Capital of Rizal and before it was declared as one of the municipality of Metro Manila.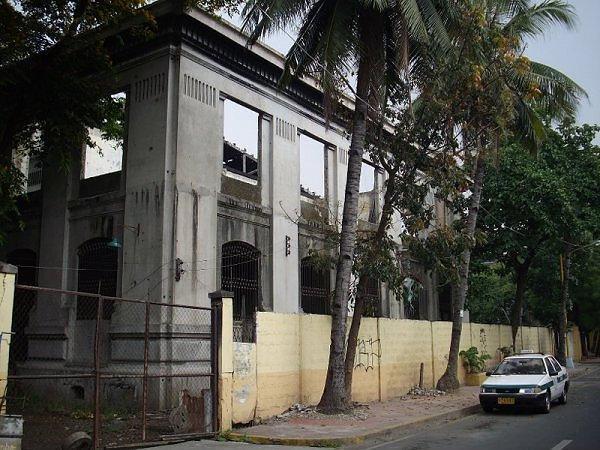 Old Rizal Provincial Capitol Today
A provincial capitol building was soon built for this new province, completed under the term of Gov. Jose Tupas, who served from 1906-1909. For fifty-some years, it was the seat of power of the province, not to mention a popular venue for celebrations like the Pasig Carnival of the pre-war years, which in turn served as an inspiration for a composer named Nicanor Abelardo to pen his famous masterpiece, the "Mutya ng Pasig." (Muse of Pasig)
During World War II, the Japanese forces found use of the building as a prison where prisoners of war were kept. While it managed to survive destruction by war, for some reason, the provincial government decided to move out of the area as the capitol was relocated by 1950 to the property along Shaw Boulevard that was donated by the Ortigas family who then owned large tracts of land in Pasig, as well as nearby towns like Mandaluyong, San Juan, and Quezon City.
For a while, the old capitol grounds found use as part of an industrial complex of a company called the American Machinery Parts, Inc., better known by its acronym AMPARTS. Thus the area became known as the AMPARTS area, even long after the company ceased its operations.
Nowadays, the former capitol grounds lies in ruins in what is now a low-key, quiet neighborhood near the banks of the Marikina River.
Many times I wanted to go inside but all of my attempts weren't successful.
Address: Lopez Jaena, Brgy. Sta. Rosa, Pasig City
Operating Hours: none
Prima 1, 2 & 3
Prima 1 & 2



Prima 1 and 2 Building houses the famous cinemas back in the days. Unfortunately, due to the change of economy, the owner was forced to make it a rental commercial space instead.
Today, the 2 cinemas are being used by a Christian church Conqueros for Christ Church and a storage facility named Securage.
Prima 3 today
On the other hand, the biggest of 3, Prima 3, which used to be a top cinema house in Pasig in the past is now a commercial space where you can see top foodchain in the Philippines.
Address: Prima 1&2 is located along F. Manalo St. while Prima 3 is along Caruncho Ave., in Brgy. Bambang, Pasig City
Operating Hours: depends on the establisment
Pamantasan ng Lungsod ng Pasig
The Pamantasan ng Lungsod ng Pasig is a local university run by the Pasig City government in the Philippines.

The PAMANTASAN NG LUNGSOD NG PASIG was established on March 15, 1999 by virtue of City Ordinance No.11, series of 1999 that was duly approved by the Sangguniang Panglungsod of the City Government of Pasig.

The establishment of PAMANTASAN NG LUNGSOD NG PASIG was truly a dream come true. For its founder, Mayor VICENTE "Enteng" P. EUSEBIO, it was a realization of a long cherished dream and part of the City's Development Plan. According to Mayor Enteng, "Education at the Pamantasan is part of the Pasig City Development 2000.
The Pamantasan ng Lungsod ng Pasig is the city's response to the challenges of the new millennium." His strong conviction that education can be a tool in addressing the socio-economic challenges of the new millennium by alleviating poverty among Pasiguenos through quality education was his lasting legacy.

On March 9, 2000, the Commission on Higher Education granted authority to PLP to offer tertiary courses within its mandate.
PLP officially opened on June 14, 2000 with six (6) initial degree program, namely: Bachelor in Secondary Education, Bachelor in Elementary Education, Bachelor of Science in Business Administration, Bachelor of Science in Hospitality Management; and Bachelor of Science in Information Technology.
New programs were eventually added such as Bachelor of Science in Electronics and Communications Engineering, Bachelor of Science in Nursing in 2001 and 2002, respectively.


Address: 12-B Alcalde Jose, Pasig, 1600 Metro Manila
Opening Hours: 9am to 5pm
Rizal High School
Rizal High School (Filipino: Mataas na Paaralang Rizal) or commonly known as RHS an institution of secondary education based in Pasig, Metro Manila, Philippines, has been listed as the "largest secondary school in the world" since 1993 by the Guinness Book of World Records until 2005 when City Montessori School in Lucknow, India held the title of the world's biggest school, when it had 29,212 pupils, beating Rizal High School in Manila, Philippines, which had 19,738 pupils.
Rizal High School
The school was named after the Philippine national hero, Dr. Jose P. Rizal. Notable graduates of the institution include former Senate presidents Neptali Gonzales and Senator Jovito Salonga, former Senator Rene Saguisag, Maestro Lucio San Pedro, and National Artist Carlos "Botong" Francisco to mention a few.
Address: Dr. Sixto Antonio Avenue, Pasig City
Opening Hours: 6am to 6pm
Fashion Circle is one of the oldest departments stores in Pasig. It houses 4-storey building of variety of merchandise.
Here, you can buy your favorite apparels, appliances and home-needs. They also sold toys and other useful items.


Address: A. Mabini Street, Pasig, Metro Manila
Plaza Rizal
Located just across the first city hall of Pasig, Plaza Rizal stands in honor of our national hero, Dr. Jose Rizal.
The plaza is also in the middle of a number of other historical sites in the area, among them, the Pasig Cathedral, the Pasig City Museum and Bahayna Tisa (House of Bricks).
Address: San Jose, Pasig City
Panaderia Dimas-Alang
Panaderia Dimas-Alang is the first known bakery in Pasig which was put up in the year 1919 by Ambrosio Lozada – the father of the internationally known violinist Carmencita Lozada.
The fact that it shared a pen name with national hero Dr. Jose Rizal all the more establishes its significance in the days when Pasig was starting to carve a name in entrepreneurship.
The bakeshop is located along the busy road of A. Mabini which is a few meters away from C5 Road - Bagong Ilog.
Address: A. Mabini Street, Pasig, Metro Manila
Operating Hours: 24 hours
Parian Creek or The Bitukang Manok
Parian Creek



Parian River or The Bitukang Manok the site of Asemblea Magna the gatherings of hundreds of katipunero's led by Andres Bonifacio in May 1896.
The Bitukang Manok links the Pasig River with the Antipolo River. During the 17th up to the early 20th century, many pilgrims from Manila and nearby towns took the route of Bitukang Manok to the Shrine in Antipolo. Even the image of the Our Lady of Peace and Good Voyage passed this way back and forth eleven times.
Bitukang Manok
In the 18th century, the Gremio de Mestizos de Sangley or Chinese Mestizos built a concrete covered bridge in the style of a pagoda over this waterway. It was called Pariancillo Bridge and later, Fray Felix Trillo Bridge in honor of Pasig's dynamic pastor.
Bahay na Tisa
Bahay na Tisa



This is the oldest bahay na bato in existence in Pasig. It was built by Don Cecilio Tech y Cabrera in the early 1850s. It has been home to seven generations of the Tech family and has been witness to significant historical events in Pasig and in the country.
The direct descendants of Don Cecilio are still in residence.
Address: P. Gomez St, Pasig City
Heritage House of Raymundo Family
Just next behind Plaza Rizal is the Raymundo House, which has capiz windows on its two sides that face the streets. According to Tutay Raymundo, this was her family's ancestral house. Her great-grandfather, Julio Raymundo, was the first Mayor of Pasig. Julio's son, Cipriano, also served as a mayor.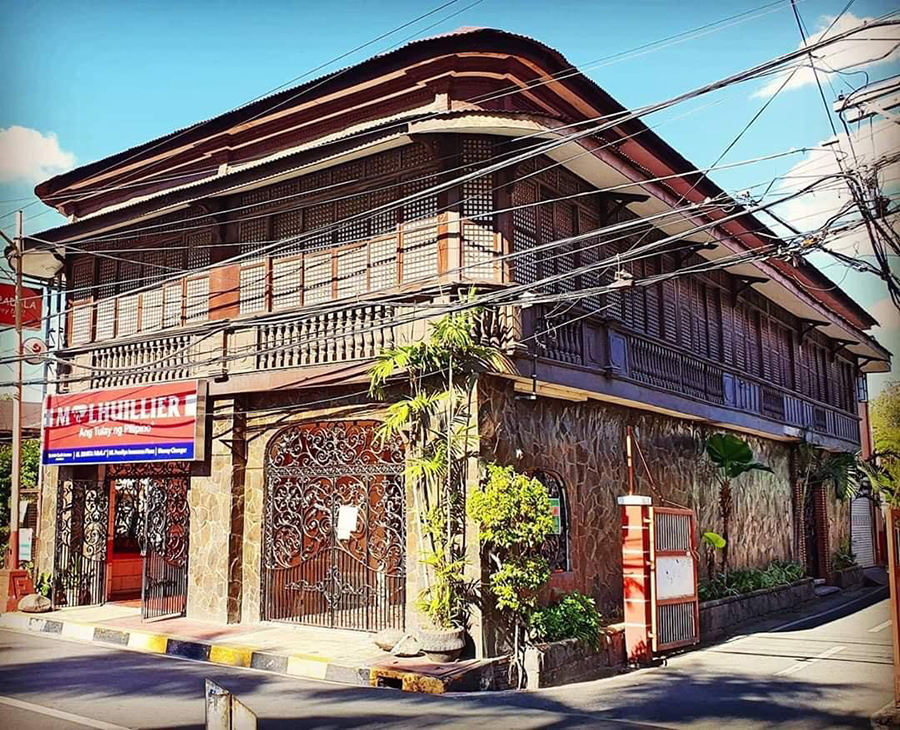 Raymundo House
A lady named Liz Selavan Odnumyar recalls that the house used to have a bakery, Panaderia El Pasig, on the ground floor. The bakery was said to have been founded in 1913. Interestingly, Baltazar Raymundo, who founded the Panaderia El Pasig, was the brother of Teresa Raymundo, whose daughter, Felisa Santos, owned Panaderia Dimas-Alang (more on this later). Rolando Magallon, a former baker of Panaderia El Pasig, said that the bakery closed down in the 1990s.
The Raymundos of Pasig are related to the Raymundos of Pateros.
Santa Ana House
The Santa Ana House looks similar to the Concepción Mansion (today's Pasig City Museum). It has a relief of Dr. José Rizal with the motto, "Aut Vincere Aut Mori (Either to conquer or to die)".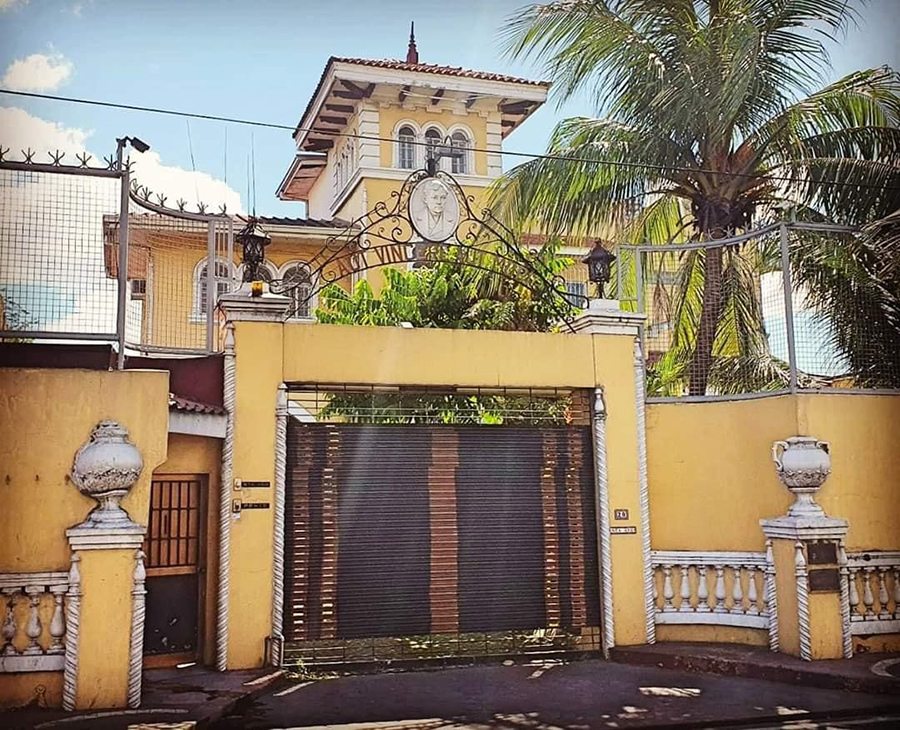 Santa Ana House
My favorite house is the Alba-Javier House, an early 20th century house with steps on the side leading to the second floor. It is not in the best condition currently as the house has been repurposed as a car wash shop.
Ijust hope the owners of these old but beautiful houses would continue taking care of these prized structures.

Address: Dr. Sixto Antonio, Brgy. Kapasigan, Pasig City
Guanio House
Standing out along Burgos Street is a yellow heritage house known as the Guanio House. The house served as the "Cuarteles del Guardia Civil" or barracks of the civil guard.
Guanio House
The house is still being utilized by its private owners.

Address: 1 A P Burgos Street Corner Plaza Street, Brgy. San Jose, Pasig City


Colegio Del Buen Consejo
Colegio del Buen Consejo is one of the oldest Private School in the City ofPasig. It celebrated its Centennial Year in 2009; to date 103 years old on April 26, 2012 on the Feastday of Our Lady of Good Counsel. It is located at the heart of the city making it accessible to its growing clientele.
Colegio Del Buen Consejo

The Augustinian Sisters of Our Lady of Consolation (ASOLC) runs the school which was an exclusive Catholic – Educational institution for girls before, but now CO-ED. It caters to Pre-Elementary students, Grade School and Secondary Level.
Intensified efforts are made to improve the school operation through the on-going personnel, students and parents formation programs and improvement of facilities to continuously upgrade instruction and quality service to its clientele.
It is the first Girls School in Pasig.
Address: A. Luna corner R. Jabson Streets, Malinao, Pasig
Pasig Catholic College is a private educational institution located in Pasig, Philippines and was founded by CICM fathers in 1913.
Pasig Catholic College
It is the cathedral school of the Diocese of Pasig and a part of the Pasig Diocesan School System and the Manila Archdiocesan Parish and School Administration.

It is the first Boys School in Pasig.
Address: Justice Ramon, R. Jabson Street, Pasig
Ado's Panciteria
Ado's Panciteria known to be the "The original Pancit with Chicharon" was established in 1952 by the late Librado "Ado" Castillo.
What started as a small family business is now one of the landmarks here in Pasig City.
Before Ado's Panciteria was recognized, Mang Ado had a barber shop. Beside his Barber shop was a small panciteria run by his Chinese friend. He usually would watch his friend cook. This started his interest in noodles.
Mang Ado
His friend's panciteria did not bloom, and that marked the start of his own panciteria. With the help of his wife and his eleven kids, Ado's Panciteria started! At first the barber shop and the panciteria stood together but as more people enjoyed this unique pancit, the family decided to concentrate on it.
Mang Ado taught his kids the importance of good service and maintaining the quality of their products. From Bihon they added a few more noodles, all topped with the yummy and crunchy chicharon!
Years passsed by, more and more avid customers enjoyed every munch of Mang Ado's Pancit. People in Pasig started to talk about the great food they serve and from a small Panciteria they were able to expand to cater more customers not only from Pasig but to other areas as well.
At present Ado's Panciteria is still here and continuously growing. The same recipe, a different look but the same concepts to be of good service to every hungry pallete.
Address: 126 R. Jabson Street, Malinao, Pasig City
Operating Hours: 6:30am to 12am daily
Mary's Infant General Hospital
There are many stories about it, there are as many accidents at the foot of the bridge or before going down the bridge because motorists are said to see something, so when you pass by it, just slowly blow the horn.
Address: 49, A. Luna Street, Sumilang, Pasig City
Operating Hours: Permanently Closed
Rizal Boy Scout Council Headquarters
Don Fortunato Concepcion donated the land and building of the Rizal Council Boy Scouts Headquarter. This edifice provided the prestige of the Rizal Province as the first class council and signaled a great stride in the advancement of the Scouting movement.
Rizal Boy Scout Council Headquarters
This building was constructed in January 1949 and was completed and made ready for occupancy in one and a half month's time.

Conferences, inductions, trainings and other activities were held in the Rizal Boy Scout Council Headquarters. There were also major decisions discussed, decided, approved and implemented within its Conference Hall. It really played an important role in the development of Scouting in Pasig.

Address: Caruncho Ave, Pasig City
Frequently Asked Questions (FAQs)
What is Pasig famous for?
Known as "the green city" for its environment-friendly initiatives led by its local government, Pasig was recognized as one of the most liveable cities in the world in 2013. Its walkable streets and nature parks make it an ideal environment for many young families.


What are the famous tourist spots found in Pasig City?
Historical & Tourist Spots

BAHAY NA TISA
BITUKANG MANOK
CUARTEL DEL GUARDIA CIVIL (Guanio Residence)
IMMACULATE CONCEPTION CATHEDRAL (ICC)
DIMAS-ALANG BAKERY
MAYBUNGA SAN ANTONIO ABAD CHURCH
PASIG CITY MUSEUM
PINAGBUHATAN SAN SEBASTIAN CHURCH
What is the history of Pasig?
Pasig was a part before of Rizal province and served as its capital. However in 1975, it was carved out of Rizal and became part of Metro Manila when the Metro manila Commission was created by President Ferdinand Marcos through Presidential Decree 824.


Why is Pasig called the Green City?
Thanks to its progressive environmental policies, Pasig has been dubbed "The Green City". Some of its local policies include the ban on the use of styrofoam, as well as that of plastic bags on dry goods. Along with cities like Jakarta and Hanoi, Pasig was named one the Ambitious City Promises' model cities.


What is the old name of Pasig?
As time went on, "mapaksik" became "Pasik" then later on "Pasig". This was evident when last 2009, flash floods brought about by the typhoon named Ondoy struck the town of Pasig, among other cities like Marikina and other nearby cities and municipalities, and caused the lost of a lot lives and property.
WHERE TO STAY IN PASIG
Visit Pasig City Guide for news and updates in Pasig. :)
WHERE TO NEXT?
IMPORTANT NOTE: The rates, contact details and other information indicated in this post are accurate from the time of writing but may change without IMFWJ's notice. Should you know the updated information, please let us know by leaving a message in the comment box below.
WHERE TO STAY IN PASIG:
pasig city province pasig city hall pasig city barangays pasig river pasig zip code pasig city hotline pasig mayor pasig city population 2019 most preserved culture of pasig culture of pasig city pasig city famous products old pasig city hall instagrammable places in pasig history of pasig city tagalog plaza rizal pasig city history