Marinduque is a heart-shaped province with plenty to offer tourists, whether they are into history or nature. The island's accessibility from Manila makes it a popular weekend destination for those looking to get away from the hustle and bustle of the city.
However, a weekend stint is not enough to discover all the attractions the province has to offer. Spend a couple more days to truly experience the local's friendliness, the beauty of each attraction and the bucolic atmosphere of each town.
What to bring to Marinduque
Here are some things you might consider bringing with you for your day tour / adventure:
Shopee
is my go-to app for things I needed like the ones above. If you'd like
discounts and vouchers
, you may get the best offers here:
Here are some of the noteworthy destinations and experiences to add to your itinerary:
1. Go to Maniwaya Island (and see Palad Sand Bar)
If you can't get enough of the beach or have already visited Marinduque but looking for something new, add Maniwaya Island and Palad Sandbar to your itinerary.


During low tide, you can go to the famous Palad Sandbar. Its soft sand will fit snugly between your toes, and its bareness (no shade whatsoever) will allow you to enjoy nature at its rawest. You can have another round of swimming or wading in the water while you're here.
This is a noteworthy addition to your itinerary because of the rock formation's unique shape and imposing appearance. It towers over the beach like the legs of a person standing on top of it.
Maniwaya is an idyllic destination with a long shoreline, swaying coconut trees and a rustic ambiance that will make you forget all your worries and stress. The waters are also inviting; enticing you to swim or just wade in it. You have the option to go to the island as a day trip or spend the night on it, either by setting up camp or staying in a resort.
2. Be amazed with Ungab Rock Formation
It is surrounded by emerald waters and grainy, cream-colored sand. This a tourist hotspot as many visitors take countless photos posing beneath it.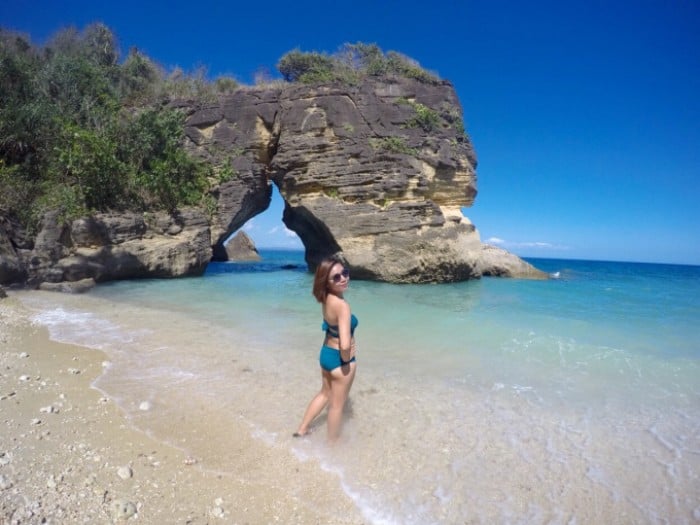 Ungab Rock Formation
Maniwaya Island, Palad Sandbar, Poctoy Beach and the Islands of Gaspar, Melchor and Baltazar are beautiful beach destinations. However, Marinduque isn't just about the sun, sand and clear waters. The province also has a subterranean wonder worth adding to your itinerary.
3. Visit Gasan Church
Two of the oldest churches on the island are the Boac Cathedral and the Sta. Cruz Church, both of which are remnants of the province's colonial past. They have intricate carvings and colorful stained-glass windows.
Gasan Church
You can also visit Gasan Church which has a beautiful exterior, complete with statues and an intricately designed wooden door, as well as a serene atmosphere because of its location in the small town.
4. Swim at Poctoy Beach
Located in Torrijos, Marinduque, Poctoy Beach is a noteworthy addition to your itinerary because it is the place to go to to relax, unwind and enjoy. There are a handful of beachfront accommodations if you want to spend the night just eating, drinking and relaxing.

Poctoy has grainy, whitish sand and enticing aquamarine waters. The beach also has rock formations that add a raw appeal to its charm. Depending on the season you're visiting or if you are traveling during the weekends, it may get crowded because it is also a popular destination for locals who want a quick getaway.
5. Explore Bagumbungan Cave in Sta Cruz
The Bagumbungan Cave is 1.9 km long with parts available for tourist exploration and other unexplored sections.
This adventure destination will take you through completely dark areas, places where you'll need to duck walk, tight spaces to slither in, and water basins to rope climb and walk through. However, the challenges will reward you with beautiful rock formations that take on different shapes such as chandeliers, a tooth, candles and even a mermaid's tale just to name a few.
ATTRACTIONS TO SEE IN MANILA
6. Experience Moriones Festival
When people are asked about Marinduque, their knee-jerk response is 'that is where the Moriones Festival takes place right?' This comes as no surprise because many people, the devotees and curious alike, travel to this province to witness this colorful tradition. Held during Holy Week, the 'Moriones' are men and women that put-on masks and costumes that replicate the clothes worn by Roman soldiers and people during Biblical times.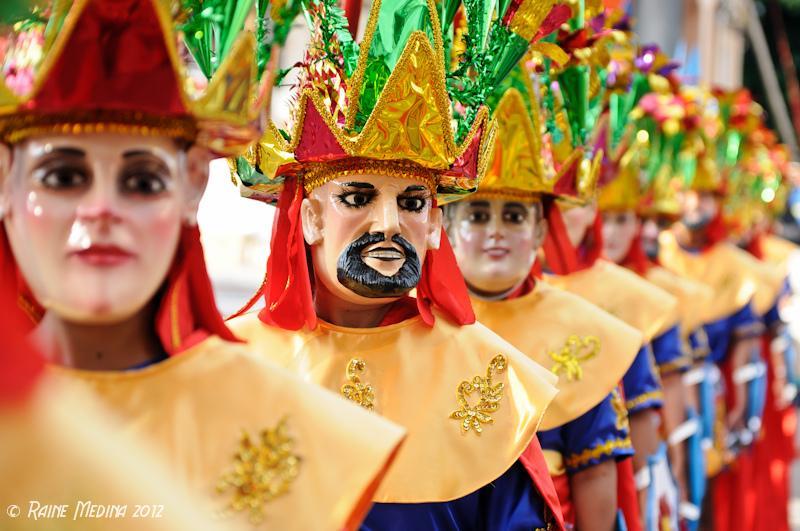 Moriones Festival 2012 courtesy of Raine Medina
People in full costume wearing brightly colored masks, helmets and tunics roam the streets of the different towns of the island. They reenact the story of the search for Longinus, the centurion who pierced a crucified Christ with his lance. The reenactment reaches its climax on Easter Sunday.
7. Go Island Hopping to Gaspar, Melchor and Baltazar Islands
One of the popular activities in Marinduque is island hopping to Gaspar, Melchor and Baltazar Islands. The jump-off point for this activity is in Brgy. Pinggan in Gasan; its port has boats that you can charter for around ₱1000 to ₱1200 for the day.
The biggest of the three, and most famous one at that, is Gaspar Island. It has a big enough beach for visitors who want to laze on the sand, take photos of the beautiful beachscape or swim/wade in its warm waters.
Melchor Island may not be as big as Gaspar, but it is just as beautiful. You can wade in its waters with the distinct rock formations as your backdrop. As for Baltazar Island, its beauty lies beneath the surface of its clear waters. This is a popular spot for those who want to go scuba diving and for those who want to see the underwater cave.
The towns of Marinduque have vestiges of the past with its old houses and churches that date back decades or even centuries. A walk through the small roads and alleys will take you back in time as these historical landmarks intertwine with sari-sari stores, carinderias and refurbished houses.

HOW TO GET TO MARINDUQUE
Marinduque is accessible from Manila. There are direct Jac Liner buses from Cubao to Marinduque. This costs ₱880 and covers the terminal fee and ferry ride as well. This bus departs from Cubao at around 5:30 PM, but you have to reserve seats in advance.
Alternatively, you can board a Jac Liner bus bound for Lucena or Dalahican Port, the fare for which is around ₱228. From Dalahican Port, board a fast craft or RORO traveling to Balanacan Port. The fare ranges from ₱260 to ₱312, depending on the type of boat you've booked. There is also a terminal fee of ₱30 per person.
ACTIVITIES AND TOURS IN MANILA
WHERE TO STAY IN MARINDUQUE
Here's a list of resorts and accommodation in Marinduque:
WHERE TO GO NEXT
If you love to travel to the Philippines, here are the beautiful islands to visit on your next trip:
IMPORTANT NOTE:
The rates, contact details and other information indicated in this post are accurate from the time of writing but may change without IMFWJ's notice. Should you know the updated information, please let us know by leaving a message in the comment box below.
Click here to subscribe to our YouTube Channel.
WHERE TO STAY IN MARINDUQUE:
marinduque capital marinduque history marinduque is known for marinduque visayas marinduque island marinduque beach