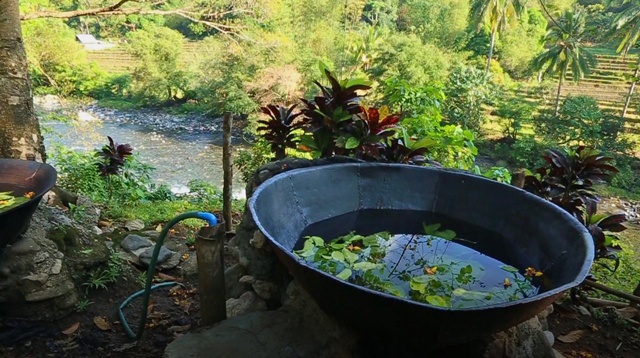 It's hot and relaxing!
This hot bath has become famous for years in Philippine Tourism. Thanks to social media in attracting people and helping to promote this kind of activity in the country.
So here we list 4 of the places where you can have a kawa bath in the Philippines:
WHAT IS KAWA BATH?
"Kawa" is the local word for a large thick fryer and looks like a giant wok. This was used to make brown sugar which is rich in molasses. A kawa bath is similar to Ofuro a type of bath which Japanese enjoy in rectangular tubs made of wood.
TIBIAO, ANTIQUE



Heading to Boracay? Why not detour a little in this neighboring province of Aklan in Panay Island for a quick relaxation?
One of the top destination in this quiet town of Tibiao in Antique is the first and the most popular place for kawa hot baths. Tibiao is full of inns and resorts offering the service, and there's a kawa (which translates to wok or a large shallow cooking pan) for one, couples and even groups. Each bath runs with local flowers and herbs that has medicinal qualities (that incidentally also make for great photos).
TANAY, RIZAL



Located near Metro Manila, Tanay has been one of favorite weekend getaways of the city people in Rizal province!
Tanay has a lot to offer! Adventurers can go mountain climbing, exploring on an ATV, while those who want to take it slow can go around museums and galleries, and of course, indulge in a kawa hot bath.
El Patio Razon, a rest house turned resort, offers this relaxing bath overlooking a sea of clouds and scenic mountain range.
The resort also offers side activities such as horseback riding and some trampoline action. You can also go on a side trip to nearby Treasure Mountain.
READ: Experience Kawa Bath at El Patio Razon in Tanay
TAGAYTAY, CAVITE



Thinking of another place or activity in Tagaytay City? This one must be on your next list!
You can go glamping with friends, or stay at their cozy nipa huts. Their kawa hot bath can be enjoyed with company, overlooking a great view of the highlands.
The place can also be booked for private functions and events — a great idea for family and barkada reunions!
READ: La VeryOl's Mountain View Garden (Kawa Bath, Room Rates and Directions)
SAMBOAN, CEBU



Fantasy Lodge's kawa hot bath is the first of its kind in the province. The kawa is set over a beautiful view of the sea, so it's best to take the bath during late afternoon while watching the sun set.
Samboan is a haven for waterfall chasers, so a side trip to the cascades is definitely a must. Some waterfalls near Fantasy Lodge include the famous Kawasan Falls, which has a slew of activities for the day adventurers. You can book also book a day tour at the resort.
CONCLUSION
Today, there are more kawa baths available around places and provinces since it was become a trend in the country. So it will be more accessible, convenient and affordable for you!
Frequently Asked Questions (FAQs) About Kawa Bath
Where to find Kawa bath in the Philippines?


Tibiao, Antique
Tanay, Rizal
Tagaytay, Cavite
Samboan, Cebu
How do you do a Kawa bath?
Before taking the kawa bath, slowly enter the giant pan of garnish so your body can adjust to the temperature. Once fully immersed, just sit back, relax and enjoy the soothing feeling that the steaming water brings. The warm waters of a kawa bath usually bring relief to aching and tired muscles.


How much is a Kawa bath?
Kawa Bat costs between Php 150.00 to Php 300.00
Have you tried kawa hot bath before? Share with us your experience in the comments section below!
kawa bath near manila kawa bath tanay kawa bath for sale kawa bath in rizal kawa bath tagaytay kawa hot bath near manila kawa bath quotes kawa bath boracay
See other lists here:
Philippines
International
Resorts and Hotels