You are about to enter one of the happiest places in the Philippines - Enchanted Kingdom
In the Philippines, the letters "EK" will make one think about exciting theme park rides like roller coasters and water slides or kiddie attractions like carousels and bumper cars. For a Filipino child, EK means a weekend getaway, while for some adults, it brings back some treasured memories of the not so distant past. To put it simply, EK is almost always associated with Enchanted Kingdom, the country' world-class amusement park that remains incomparable and arguably superior compared to similar establishments in the metro.
Enchanted Kingdom is the largest and most popular theme park destination in the Philippines where families and friends head to for a myriad of fun, adrenaline-pumping ride adventures and a whole lot more.
Even if Enchanted Kingdom is mostly visited on weekends, it's perfectly okay to go on a weekday. In fact, it is even recommended by some visitors so you don't have worry about huge crowds, long lines, and the occasional heavy traffic when you travel to get there.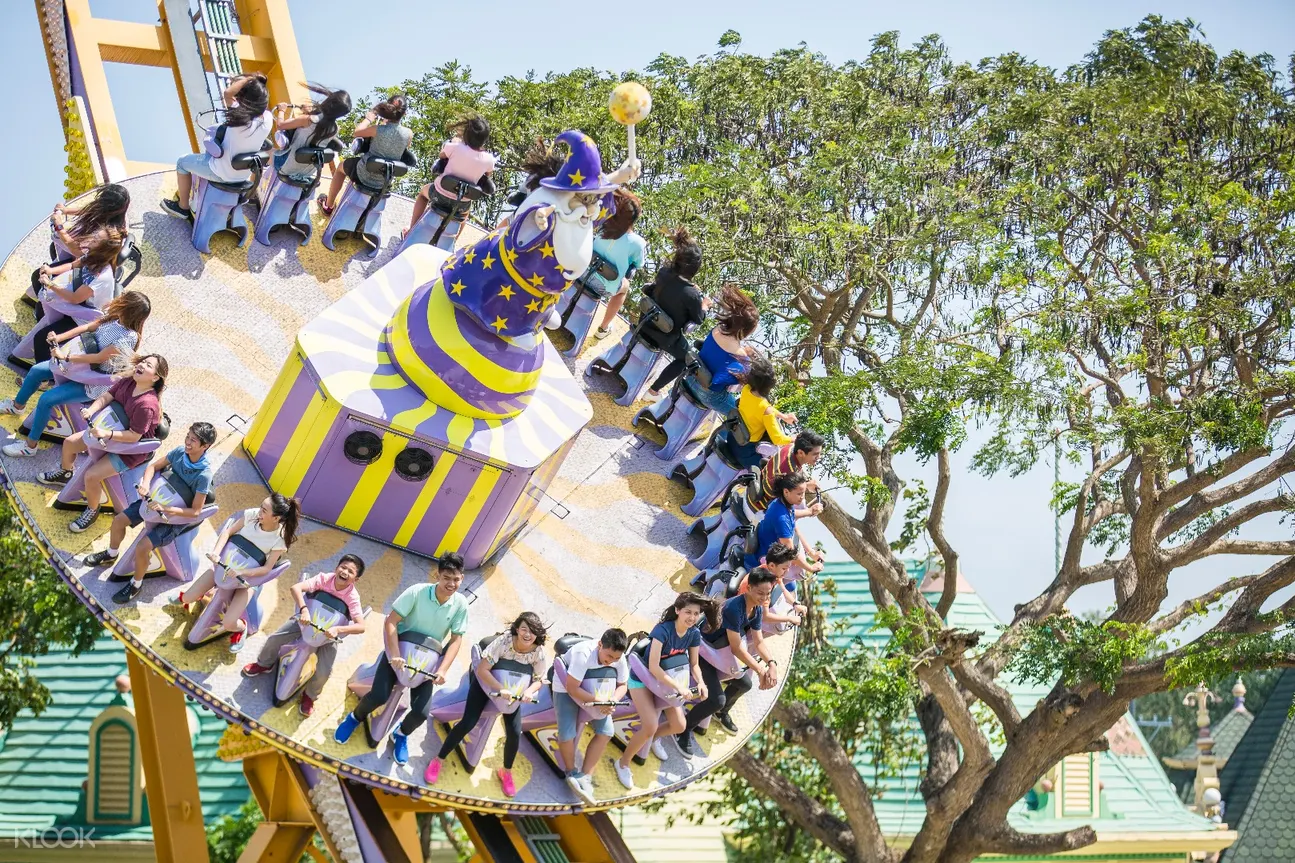 With this special access, you are free try the famed rides of Enchanted Kingdom as much as you want: Grand Carousel, Rialto, Wheel of Fate, Grand Fiesta, Anchor's Away, Rio Grande, Jungle Log Jam, EKstreme Tower Ride, and the Space Shuttle. All rides are highly recommended, whether you want to experience the thrill of a lifetime at the towering Space Shuttle roller coaster or just capture a special moment with your child or younger sibling at the park's famous Grand Carousel. There are also other premium rides that you can try for an additional price.
Speaking of premium rides, this regular park ticket is inclusive of access to one of Enchanted Kingdom's newest offering, AGILA the EKsperience. It is said to be the only flying theater in the Philippines, which will make you go through a thrilling multi-sensory adventure in the eyes of an agila or the treasured Philippine eagle. You will experience soaring to great heights above natural wonders that can only be found in the country. After the one of a kind show, you can drop by the theater's souvenir shop or have your picture taken with the structure's stunning architecture in the background.
Even after spending some time at AGILA, you'd feel as if the fun is just getting started at Enchanted Kingdom. With seven special areas, each with a unique theme and set of attractions, you can easily spend one whole day of hopping from one place to another to check out, not just the rides, but also the numerous booths, games, kiosks, and stores peppered all over the theme park.
With it size, exciting attractions, and magical vibe that can be appreciated by kids (and adults) of all ages, there are absolutely no dull moments at Enchanted Kingdom. Since it opened its doors in 1995, it has been luring in visitors from all over the country to its sprawling location in Sta. Rosa, Laguna. Enchanting, memorable, and undeniably a classic, Enchanted Kingdom is an attraction with magic that will live on within you for many years to come.
THINGS TO KNOW
1.
Rates
vary on weekends, weekdays, and holidays. 2.
Junior Day Pass or CHILD RATE
is applicable for children measuring
36 to 47 inches ONLY.
Children below 36 inches are free of charge, while those taller than 47 inches shall be charged with adult rate. 3. Printed booking vouchers shall be presented to the ticket office in exchange of the EK Regular Day Pass ticket. 4.
2018 PARK SCHEDULE:
• April 2 to June 3 Monday & Tuesday: CLOSED Wednesday to Friday: 2:00 PM - 9:00 PM Saturday & Sunday: 11:00 AM - 9:00 PM • June 4 Monday to Thursday: CLOSED Friday: 12:00 NN - 7:00 PM Saturday & Sunday: 11:00 AM - 9:00 PM • August 13 to September 16 Monday to Wednesday: CLOSED Thursday & Friday: 12:00 NN - 7:00 PM Saturday & Sunday: 11:00 AM - 9:00 PM • August 21 & 22 (Tuesday and Wednesday): CLOSED • September 17 to December 16 Monday & Tuesday: CLOSED Wednesday to Friday: 12:00 NN - 7:00 PM Saturday & Sunday: 11:00 AM - 7:00 PM • November 1 (Thursday): 11:00 AM - 9:00 PM • November 2 (Friday): 11:00 AM - 9:00 PM • November 30 (Friday): 11:00 AM - 9:00 PM • December 17 to 21 Monday to Friday: 11:00 AM - 9:00 PM • December 24 & 31 Monday: 10:00 AM - 7:00 PM • December 22 - January 1, 2019 DAILY 10:00 AM - 12:00 MN 5.
PROHIBITED ITEMS INSIDE THE PARK:
• Food & beverages, alcoholic or non-alcoholic. • Drugs and deadly weapons such as sharp and pointed objects • Pets (except seeing eye dogs or guide dogs) • Wheeled items (bikes, trolley, skateboards, shoes with rollers, 3-Wheeled strollers) • Sports balls • Permanent markers and felt tip pens and playing cards • Cremated remains (e.g. urn, vases, boxes) • Speakers and musical instruments (e.g. Flute, drumstick, drums) • Whistle, flashlights and tools • Pepper spray • Binoculars • Other electronic gadgets (e.g. hair curlers and hair iron). 6.
RIDES RESTRICTIONS:
• Some of the rides may be restricted by height or physical limitations established by ride manufacturers for your safety. 7.
PROPER ATTIRE:
• The Park reserves the right to refuse admission to persons who are not properly attired. • Loose accessories are not encouraged while on board the rides. 8.
INJURY LOSS OR DAMAGE:
• The owners and operators of the Park shall not be responsible for any personal injury or loss or damaged to guest's property occurring within its premises. • Please observe all safety precautions and guests must do their share in ensuring their personal safety and security as well as that of their belongings. 9.
ENCHANTING BIRTHDAY BLOWOUT!
•
Valid for Regular Ride All-You-Can Ticket only, Agila Ticket is not included.
•
Must bring a PHOTOCOPY of their birth certificate and a valid ID (government issued with picture and imprinted birthdate)
to the Group Sales Office at the Park's Front Gate. • This privilege can be availed during celebrant's actual birthdate or within their birth week (6 days before or after actual birthday) when the Park is open. • Celebrant(s) must also bring a minimum of one (1) guest companion entitled to the discount on corresponding ticket rates who will purchase onsite on the day of their visit. 10. Park Management reserves the right to refuse admission, or to require a person already admitted to leave the Park, without refund or compensation, for failure to comply with any of the Park rules, for unsafe, illegal or offensive behavior, persons under the influence of alcohol & other intoxicated substance to ensure safety, security or order, or if we consider that the circumstances so require. 11. Park Schedule is subject to change depending on government's declaration of holiday.
PROMO!!!
INCLUSION
• Admission to the Park • Ride-All-You Can Pass to all the Park's rides • Unlimited admission to EK's new flying theater attraction, Agila: The EKsperience
HOW TO GET TO ENCHANTED KINGDOM
For those who are using private vehicle going to EK, you can just follow directions from Google Maps or Waze app.
VIA PUBLIC TRANSPORTATION (BUS|VAN|FX)
Enchanted Kingdom
Address: San Lorenzo Rd, Santa Rosa, Laguna
Website:
www.enchantedkingdom.ph
Facebook:
Enchanted Kingdom
Instagram:
@ek_philippines
IMPORTANT NOTE:
The rates, contact details and other information indicated in this post are accurate from the time of writing but may change without IMFWJ's notice. Should you know the updated information, please message us on
Facebook
.
Click here to subscribe to our YouTube Channel.
WHERE TO STAY IN LAGUNA:
Related searches: enchanted kingdom ticket,
enchanted kingdom schedule,
enchanted kingdom schedule 2018,
enchanted kingdom promo 2018,
enchanted kingdom ticket promo,
enchanted kingdom ticket for sale,
enchanted kingdom entrance fee 2018,
enchanted kingdom agila