You are about to enter one of the happiest places in the Philippines - Enchanted Kingdom
In the Philippines, the letters "EK" will make one think about exciting theme park rides like roller coasters and water slides or kiddie attractions like carousels and bumper cars. For a Filipino child, EK means a weekend getaway, while for some adults, it brings back some treasured memories of the not so distant past.
To put it simply, EK is almost always associated with Enchanted Kingdom, the country' world-class amusement park that remains incomparable and arguably superior compared to similar establishments in the metro.
Here's your complete guide to the happiest place found in Sta. Rosa City, Laguna!
COVID-19 Health and Safety Protocols
The Enchanted Kingdom is not yet operating in full capacity (only 30%) in view of the current COVID-19 health and safety protocols being imposed. Only individuals aged between 18 to 65 years old are allowed to go out under the prevailing quarantine classification.
Public transportation is also limited so you should take these into consideration when planning a trip to the Enchanted Kingdom. For inquiries, you may send an email to the Enchanted Kingdom or get in touch with them through Facebook.
ABOUT ENCHANTED KINGDOM
Enchanted Kingdom is the largest and most popular theme park destination in the Philippines where families and friends head to for a myriad of fun, adrenaline-pumping ride adventures and a whole lot more.
Entrance to Enchanted Kingdom
Enchanted Kingdom opened to the public on October 19, 1995. It was and still is the first and only world-class theme park in the Philippines. The theme park boasts of rides and attractions unique to the country in size and magnitude.
These rides and attractions are located within seven meticulously themed zones interspersed with food and merchandise outlets and kiosks as well as various game stands that add to the "enchanting experience", away from the day-to-day realities of life.
Ekstreme Tower Ride
Enchanted Kingdom is also a choice venue for (1) personal milestones, such as birthdays, weddings, and debuts; (2) corporate events, namely, conferences, company anniversaries, awarding ceremonies, product launches, and EK Magicalympics team building; and (3) school events, such as commencement exercises, Junior-Senior prom, and sports events.
Enchanted Kingdom can cater to in-park group reservations from 10,000 to 25,000 guests in various themed environments in the Park's seven zones or in its enchanting events venues: Eldar's Theater (600-seater), Boardwalk Party Place (300-seater), and Enchanting Events Place (2,000-seater).
Enchanted Kingdom boasts of "themed entertainment" in each zone. It also has a variety of musical shows throughout the season using in-house and TV network partner talents. Entertainment and special events are usually held at any of the aforementioned venues.
Currently, Enchanted Kingdom is exploring ways to expand into other ventures like Edutainment. Through the spirit of participation in education-related undertakings, the theme park can greatly help in the future of the country's educational backbone.
ELDAR THE WIZARD
Eldar the wizard is the beloved character of Enchanted Kingdom. He is a jolly, old wizard in the faraway land of Marsynthea.

Nobody knows his age or where he came from, but for many, many years and generations thereof, Eldar took great care of this land, nurturing all the plants and animals.
He teaches children to uphold virtues of kindness, humility, patience, honesty, diligence, generosity, and love of God and family. His dream is to share joy, love, and magic with everyone.
THE MAGICAL EK EXPERIENCE
Even if Enchanted Kingdom is mostly visited on weekends, it's perfectly okay to go on a weekday. In fact, it is even recommended by some visitors so you don't have worry about huge crowds, long lines, and the occasional heavy traffic when you travel to get there.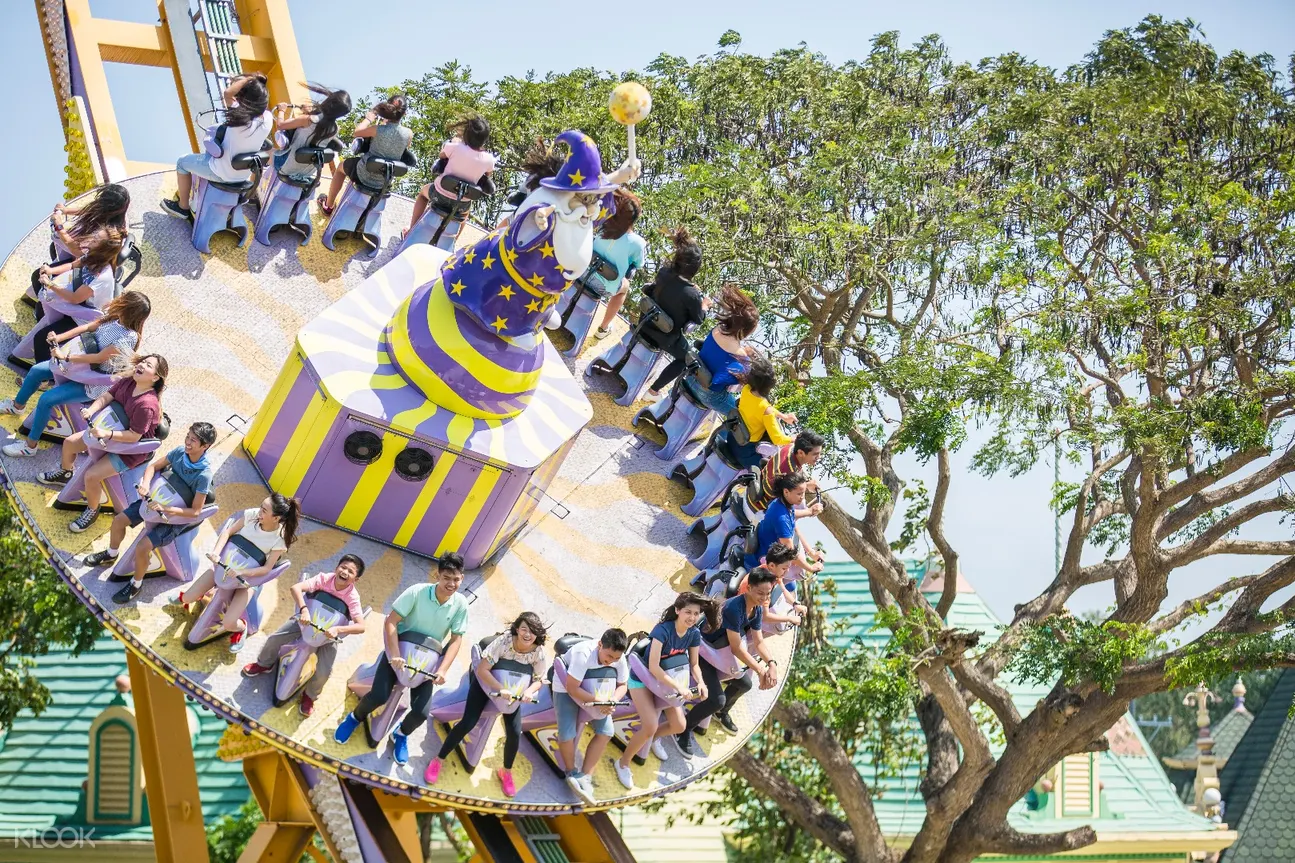 With this special access, you are free try the famed rides of Enchanted Kingdom as much as you want: Grand Carousel, Rialto, Wheel of Fate, Grand Fiesta, Anchor's Away, Rio Grande, Jungle Log Jam, EKstreme Tower Ride, and the Space Shuttle.
All rides are highly recommended, whether you want to experience the thrill of a lifetime at the towering Space Shuttle roller coaster or just capture a special moment with your child or younger sibling at the park's famous Grand Carousel. There are also other premium rides that you can try for an additional price.
ENTRANCE FEE
Here's a list of entrance fees for Enchanted Kingdom:
EKSPRESS ONE DAY PASS P1,800
Inclusive of admission and unlimited use of the Park's major and kiddie rides (except for gated attractions) with EKSPRESS RIDE ACCESS
AVAILABLE ONSITE (EK's Front gate Ticket Booths) and ONLINE via EK ONLINE STORE
REGULAR DAY PASS P999
Enjoy unlimited use of all the Park's rides.
GUEST HEIGHT 48 inches (4ft or 122cm) and above
AVAILABLE ONSITE (EK's Front gate Ticket Booths)
JUNIOR DAY PASS P688
Enjoy unlimited use of the Park's rides depending on height restrictions
GUEST HEIGHT between 36" (3 ft or 91 cm) to below 48" (4ft or 122cm) tall
* Children below 36" (3 ft or 91 cm) may enter the Park for FREE
AVAILABLE ONSITE (EK's Front gate Ticket Booths) and ONLINE via EK ONLINE STORE
SENIOR CITIZEN | PWD P688
Applicable upon presentation of Person With Disability (PWD)/Senior Citizen ID. Inclusive of 20% BIR discount and EK special discount.
GUEST HEIGHT 48 inches (4ft or 122cm) and above
AVAILABLE ONSITE (EK's Front gate Ticket Booths) and ONLINE via EK ONLINE STORE
JUNIOR PWD P488
Applicable upon presentation of Person With Disability (PWD) ID. Inclusive of 20% BIR discount and EK special discount
GUEST HEIGHT between 36" (3 ft or 91 cm) to below 48" (4ft or 122cm) tall
* Children below 36" (3 ft or 91 cm) may enter the Park for FREE
AVAILABLE ONSITE (EK's Front gate Ticket Booths)
Speaking of premium rides, this regular park ticket is inclusive of access to one of Enchanted Kingdom's newest offering, AGILA the EKsperience. It is said to be the only flying theater in the Philippines, which will make you go through a thrilling multi-sensory adventure in the eyes of an agila or the treasured Philippine eagle.



You will experience soaring to great heights above natural wonders that can only be found in the country. After the one of a kind show, you can drop by the theater's souvenir shop or have your picture taken with the structure's stunning architecture in the background.

Even after spending some time at AGILA, you'd feel as if the fun is just getting started at Enchanted Kingdom. With seven special areas, each with a unique theme and set of attractions, you can easily spend one whole day of hopping from one place to another to check out, not just the rides, but also the numerous booths, games, kiosks, and stores peppered all over the theme park.
With it size, exciting attractions, and magical vibe that can be appreciated by kids (and adults) of all ages, there are absolutely no dull moments at Enchanted Kingdom.
Space Shuttle
LIST OF RIDE AT ENCHANTED KINGDOM
Here is the complete list of rides that you can try in the world-class theme park:
7D Interactive Motion Theater – a 7D interactive Light Gun Motion ride that gives a multi-sensory adventure to guests.
Agila the EKsperience – see the different Philippine destinations in 3D.
Air Ptero – gives children the experience of riding an airplane on their own.
Air Race – acrobatic planes to give passengers the thrill of their lives.
Anchors Away – have fun riding a pirate ship as it mimics the motion of being tossed by waves.
Boulderville Express – experience a fun locomotive ride.
Bouncing Boulder – have fun on a mini tower ride.
Bumbling Boulders – ride and spin stone-age designed boulders.
Bump N' Splash – a fun-filled water adventure.
Dino Soar Us – kid-friendly dinosaur ride.
Disk-O-Magic – a spinning and rocking ride for families.
Dodgem – exciting bumper car ride.
Ekstreme Tower Ride – a thrilling ride that gives a magnificent view of the area around the Enchanted Kingdom.
Flying Fiesta – an exciting swing ride that features tandem seats.
Fun Kart – enjoy the excitement of race car driving.
Jungle Log Jam – prepare for an exhilarating water ride.
Kindermagic – kiddie center for fun learning.
Laser Mission – an attraction that lets guests navigate through a maze of lasers.
Rialto 4D – a motion simulator theater.
Rio Grande Rapids – navigate through rough waters on a rubber raft.
Roller Skater – junior roller coaster for those who are not yet ready for a big roller coaster ride.
Space Shuttle – get the full heart-pounding roller coaster experience here.
Stone Eggs – a mini-Ferris Wheel for kids.
Swan Lake – a relaxing boat ride on a lake.
The Grand Carousel – the classy centerpiece of Enchanted Kingdom.
Up, Up, And Away – experience how it is to ride a hot air balloon.
Wheel of Fate – a big Ferris Wheel ride.
Xtreme Paintball Philippines – a battle simulation field.
Bollywood Show
ENCHANTED KINGDOM SHOWS
Aside from rides and attractions, there are also special and regular shows at the Enchanted Kingdom. These are the following:
Enchante Musicale
Victoria's Way
Kingsmen
Animal Encounters
Sky Wizardry
Arabian Dancers
Bollywood
Boulderville Buddies
Brooklyn Beats
Jungle Fire Tribe
Portabello Dancers
Rowan's Revenge
Victorian Nobles
EDUCATIONAL TOURS
Aside from fun rides and entertaining shows, the Enchanted Kingdom also offers educational tours. These are the following:
Physics Behind The Rides
Botany In The Park
Animal Encounters
E-Learning
K-12 Eksplora Kits
School Caravan
Anchors Away
HOW TO AVAIL RIDE-ALL-YOU-CAN FROM EK
Enjoy unlimited rides and loads of fun inside the Philippines' first amusement park: Enchanted Kingdom!
Book your admission ticket on Klook and enter the venue directly with your voucher, just proceed to the Grand Entrance to enter the park premises
Have a magical day inside this 25-hectare world class theme park featuring eight themed zones and exciting rides and attractions
Hop on EK's famous thrill rides including Space Shuttle, Anchor's Away, Rio Grande Rapids, and more!
Certain rides and attractions (indoor and kiddie rides) may not be available during your visit for safety reasons and applicability
[FREE SHUTTLE TO EK!] Just book the Play Your Summer package for all Fridays, Saturdays, and Sundays from 22nd April until 8th May, and get roundtrip transfers from Mall of Asia. Seats are on first come first serve basis
HOTEL ACCOMMODATION AND STAYCATION NEAR EK
Another experience you can enjoy in Nuvali is a relaxing staycation. Here are the hotels inside and nearby Nuvali:
HOW TO GET TO ENCHANTED KINGDOM
Going to the Enchanted Kingdom is fairly easy because of its proximity to Metro Manila. The most convenient way to reach it is through private vehicle but it's also no hassle to commute to the Enchanted Kingdom.
Via Public Commuting (BUS|VAN|FX)
Via Shuttle Service
Shuttle service to the Enchanted Kingdom is available at Park Square 1 Carpark Building (Theater Drive corner A. Arnaiz Avenue, Ayala Center) and at The District Imus (E. Aguinaldo Highway corner Daang Hari Road, Imus, Cavite).
You may call +63 (02) 830-3535 for assistance.
Via Private Vehicle
Once you are at the South Luzon Expressway, drive all the way to the Sta. Rosa Toll Exit. After the Sta. Rosa Toll Exit, turn left going to the Sta. Rosa town proper.
Keep your eyes open for Walter Mart. Make a turn to the road leading to the Enchanted Kingdom.
You will arrive at the park in less than 5 minutes. There is a parking area for private vehicles.
Enchanted Kingdom
Address: San Lorenzo Rd, Santa Rosa, Laguna
Frequently Asked Questions (FAQs) About Enchanted Kingdom
Who is the founder of Enchanted Kingdom?

CEO and founder Mario Mamon on one of Asia's largest theme parks, Enchanted Kingdom.




How much will it cost to go to Enchanted Kingdom?

Regular Day Pass: P800 (Unlimited park rides) Junior Day Pass: P500 (Unlimited park rides depending on the height restrictions) – between 3 ft to 4 ft. Senior Citizen & PWD: P500 (Senior Citizen or PWD ID is required) Junior PWD: P350 (PWD ID is required) – between 3ft to 4ft.




Is it allowed to go to Enchanted Kingdom?

Who are allowed to visit the park? Guests of ALL AGES, vaccinated and unvaccinated, are allowed to enter Enchanted Kingdom. However, take note of the following: Temperature checks are conducted upon entry.




Is it allowed to bring food in Enchanted Kingdom?

Are we allowed to bring food in the park? No. Ever since the park opened, guests are not allowed to bring food and drinks from outside. We have a variety of FOOD OUTLETS in the park you can choose from.




Can minors go to Enchanted Kingdom?

MINORS (regardless of vaccination status) and accompanied by fully vaccinated adults (18 years old and above) will be allowed entry into our INDOOR attractions & venues subject to capacity limitations.




Is there a locker in Enchanted Kingdom?

YES, there are lockers inside Enchanted Kingdom. If your bag is slowing you down and restraining you, lockers are available at the Victoria Park zone
IMPORTANT NOTE:
The rates, contact details and other information indicated in this post are accurate from the time of writing but may change without IMFWJ's notice. Should you know the updated information, please message us on
Facebook
.
WHERE TO STAY IN LAGUNA:
enchanted kingdom entrance fee enchanted kingdom schedule enchanted kingdom philippines enchanted kingdom ticket enchanted kingdom map klook enchanted kingdom enchanted kingdom location enchanted kingdom laguna enchanted kingdom entrance fee ride all you can ek entrance fee 2022 enchanted kingdom ride all you can enchanted kingdom entrance fee no rides enchanted kingdom ticket klook enchanted kingdom enchanted kingdom vip pass metrodeal enchanted kingdom enchanted kingdom rides list with pictures enchanted kingdom rides price enchanted kingdom rides map enchanted kingdom new rides enchanted kingdom extreme rides enchanted kingdom map mga rides sa enchanted kingdom enchanted kingdom schedule Image of Enchanted Kingdom map Enchanted Kingdom map Feedback enchanted kingdom entrance fee enchanted kingdom klook enchanted kingdom promo enchanted kingdom tagline enchanted kingdom open enchanted kingdom schedule enchanted kingdom schedule 2022