Your Tagaytay trip won't be complete without tasting this classic burger!
Last 2018, me and my family went on a memorable 7-day trip to Tagaytay. One of the things we made sure of is visiting Mushroomburger which is a walking distance from Sky Ranch Tagaytay and to our hotel accommodation at The Lakeview Suites.
We were here to try their famous mushroom-based pattie burger and other food.

Since it was past lunch time, we also order rice meals to fill our hunger.
LOOKING FOR KITCHEN OR DINING NEEDS?
Here are the best options to shop for your kitchenware and dining essentials:
ABOUT MUSHROOMBURGER
The signature Mushroomburger patty was created back in 1979. Still to everyone's surprise, it is approximately made up of 50% mushrooms and 50% real beef.
Inside Mushroomburger Tagaytay
THEIR STORY
"One fine day at our Tagaytay store, a customer made a comment on how mushrooms were more expensive than beef in his country. Certainly this means they could make for a better burger than beef, he reasoned. As the saying goes, the customer is always right, and that was the day our first Mushroomburger was born."
"This particular customer happened to be the Executive Chef of a major hotel in Manila, so he knew what he was talking about when he declared our Mushroomburger creation to be the best he ever tasted. November 1, 1980 will go down as a day in history for our Mushroomburger business, and has since served as inspiration for other fabulous takes on our famous burger. There are now a full seven kinds of Mushroomburger in our line, including Mushroomburger Pinoy, Mushroomburger Royal and Mushroomburger King."
MUSHROOMBURGER MENU
This is Mushroomburger's updated menu as of writing: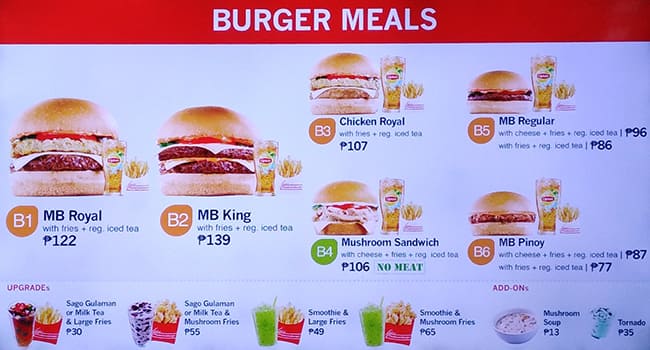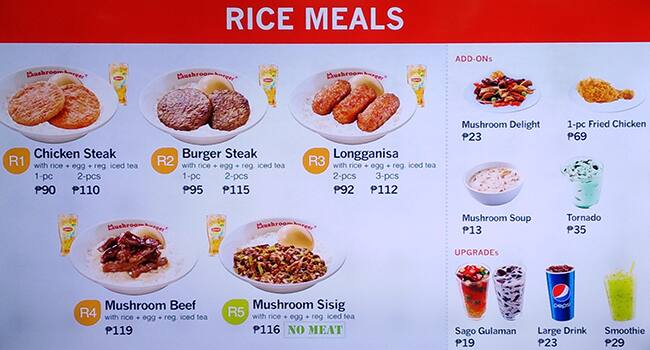 OUR REVIEW
First of, their signature mushroom+beef pattie. It was tasty and juicy. No aftertaste. If I would eat it, I will eat 2 pcs! The burger is partnered with fries and drinks as a meal.
We also tried their fried chicken meal. Crispy like the ones from Jollibee and juicy. I loved it!
Aside from their famous burgers, you should also try their crispy mushroom. It's a good snack not only for adults but for kids.
The ambiance on the other hand is like an old diner where you can notice some marks of the past. But on the good side is they repainted the whole place and maintained well enough.
You can also buy pasalubong here especially their own-made mushroom-based products.
If I am coming back to Tagaytay, I would happy to visit here again.
HOW TO GET TO MUSHROOM BURGER TAGAYTAY
Mushroomburger is located near Sky Ranch so majority of PUV are not passing the road.
Buses from Manila going to parts of Batangas are passing Mahogany Avenue instead of the Tagaytay-Nasugbu Highway.
Jeepneys however, are taking turn to Crisanto M. Delos Reyes Avenue.
Therefore, the most convenient way to commute going there is via tricycle.
If you are bringing a private vehicle then you can just type "Mushroomburger" on Waze or Google Maps for directions. They have a spacious parking lot.
They also have branches in Project 7 Quezon City and Las Pinas City.
THINGS TO BRING WITH IN TAGAYTAY
OTHER THINGS TO DO IN TAGAYTAY CITY
Mushroomburger
Address: Tagaytay - Nasugbu Hwy, Kaybagal South, Tagaytay, Cavite
Contact Number: (02) 8882-8888
Opening Hours: 8:00AM to 10:00PM
Facebook:
Mushroomburger
IMFWJ supports local businesses in the Philippines. If you are a business owner and would like to be featured too, please send your email at contact@morefunwithjuan.com or contact us
HERE
.
This is part of our Tagaytay Trip in August 2018.
Written by MJ Mutuc.
WHERE TO STAY IN TAGAYTAY

IMPORTANT NOTE:
The rates, contact details and other information indicated in this post are accurate from the time of writing but may change without IMFWJ's notice. Should you know the updated information, please message us on
Facebook
.
WHERE TO STAY IN TAGAYTAY:
Click here to subscribe to our YouTube Channel.
Mushroom burger West ave menu contact number Mushroom burger Menu Las Piñas Mushroom burger Tagaytay recipe Mushroom burger, Tagaytay menu Mushroom burger paranaque Mushroom burger tagaytay delivery Mushroom Burger review Mushroom Burger pancit