Nestled in the heart of Manila, Dapitan Arcade is a treasure trove for shoppers seeking unique and affordable finds.
This bustling market has earned a reputation as a haven for home decor, handicrafts, and vintage items. In this guide, we'll walk you through how to make the most of your visit to Dapitan Arcade.
LOOKING FOR KITCHEN OR DINING NEEDS?
Here are the best options to shop for your kitchenware and dining essentials:
Dapitan Arcade
Dapitan Arcade is the best source for export over-run items in the local market. It caters variety of export quality items for your home improvement, accent furniture and furnishing, lighting, plates and platter and almost anything one can think of for interior decoration.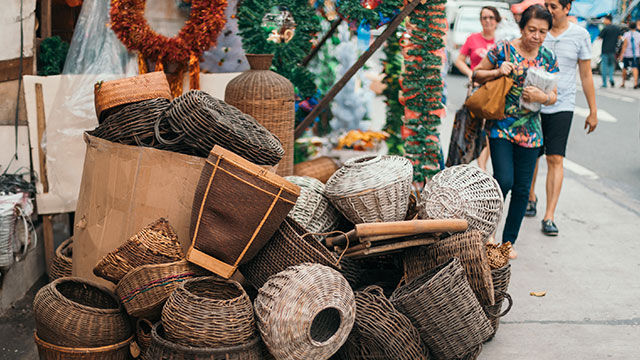 Dapitan Arcade is the place where the manufacturer and export-based companies unload their products at a very reasonable prices.
Getting to Dapitan Arcade
Dapitan Arcade is conveniently located in Dapitan Street, Sampaloc, Manila. Here are some transportation options to consider:
Jeepneys: You can easily spot jeepneys bound for Dapitan Street from various points in Manila. Just look for signs that read "Dapitan" or ask locals for directions.
LRT-2: Take the LRT-2 and get off at the Pureza station. From there, you can walk to Dapitan Arcade, which is just a few blocks away.
Ride-Sharing Services: Using ride-sharing apps like Grab or local equivalents can be a hassle-free way to reach Dapitan Arcade.
Exploring the Market
Once you arrive at Dapitan Arcade, be prepared for an exciting shopping adventure. Here's how to make the most of your visit:
Plan Your Visit: Dapitan Arcade is open year-round, but it's particularly vibrant during the holiday season. Consider visiting during weekdays to avoid the weekend crowds.


Shop Early: If you're looking for the best selection and deals, it's a good idea to start your shopping early in the day. Some vendors may offer discounts to early birds.


Bring Cash: While some vendors accept card payments, it's best to bring cash, including smaller denominations. This will make transactions smoother and help you stick to your budget.


Haggling is Accepted: Don't be afraid to haggle! Bargaining is a common practice at Dapitan Arcade, and vendors often expect it. Just remember to be polite and respectful during negotiations.
What to Buy at Dapitan Arcade
Dapitan Arcade offers a wide range of items, making it a perfect destination for various shopping needs. Here are some popular categories of goods you can find:
Home Decor
Dapitan Arcade is renowned for its home decor items, including antique furniture, paintings, sculptures, and decorative knick-knacks. You can discover unique pieces to adorn your living space.
Handicrafts
The market is a haven for handicraft enthusiasts. Look for beautifully crafted wooden items, textiles, and pottery that showcase Filipino artistry.
Plants and Garden Accessories
If you have a green thumb, you'll be delighted to find a variety of plants, pots, and garden accessories. Dapitan Arcade is a great place to start or expand your indoor or outdoor garden.
Party Supplies
Planning a special event? Dapitan Arcade is a go-to place for party supplies, from table settings to decorations, and even custom-made items.
Apparel and Accessories
While the focus is on home goods, you can also find clothing, accessories, and jewelry stalls offering stylish finds at affordable prices.
Dining and Refreshments
Exploring Dapitan Arcade can work up an appetite. Fortunately, there are food stalls and eateries nearby where you can grab a bite to eat.
Be sure to try some local snacks or refreshing drinks to keep you energized throughout your shopping spree.
ATTRACTIONS TO SEE IN MANILA
Tips for a Successful Visit
To make the most of your visit to Dapitan Arcade, keep these additional tips in mind:
Bring Reusable Bags: Carrying your reusable shopping bags can help reduce waste and make it easier to transport your purchases.


Keep an Eye on Your Belongings: While Dapitan Arcade is generally safe, it's always wise to keep an eye on your belongings and be cautious with your valuables.


Explore Nearby Markets: If you have more time, consider exploring nearby markets like Dapitan Tiangge and Deeco, which offer additional shopping options.


Enjoy the Experience: Beyond the shopping, relish the experience of immersing yourself in local culture, interacting with vendors, and discovering hidden gems.
Dapitan Arcade is a shopper's paradise waiting to be explored. Whether you're searching for home decor, handicrafts, or one-of-a-kind treasures, this market offers a delightful shopping experience. Remember to plan your visit, come prepared with cash, and enjoy the vibrant atmosphere of this beloved Manila destination. Happy shopping!
ACTIVITIES AND TOURS IN MANILA
Planning a staycation in Quezon City?
Check out my favorite hotels below:
IMPORTANT NOTE:
The rates, contact details and other information indicated in this post are accurate from the time of writing but may change without IMFWJ's notice. Should you know the updated information, please let us know by leaving a message in the comment box below.
Click here to subscribe to our YouTube Channel.
WHERE TO STAY IN QUEZON CITY:
Quezon City Hotels & Resorts
|
Quezon City Transient for Rent