All you need to know about Laiya in San Juan, Batangas.
Laiya
is a 3-hour drive and a popular
beach destination near Manila
because of its amazing ivory shore and crystal clear turquoise colored sea water. This beach in
San Juan
, Batangas is perfect for weekend getaway for the family, barkada boding or company outing.
WHAT TO PACK FOR LAIYA
Here are some things you might consider bringing with you for your day tour / adventure:
About Laiya Beach
Laiya Beach
is a long-stretch of
beach
shoreline located in Laiya-Aplaya, San Juan, Batangas. Due to the
beach's white sands
, clear waters, and proximity to the country's capital, Manila, it has become one of the most famous and most visited beaches in the country, particularly for those from the
National Capital Region
. A place good for fishing, a nearby reef & small waves for
surfing
.
Laiya has white sand beaches and clear waters, and as such is frequently compared to Boracay, which is the country's top beach choice for local tourists, celebrities, and foreign tourists alike.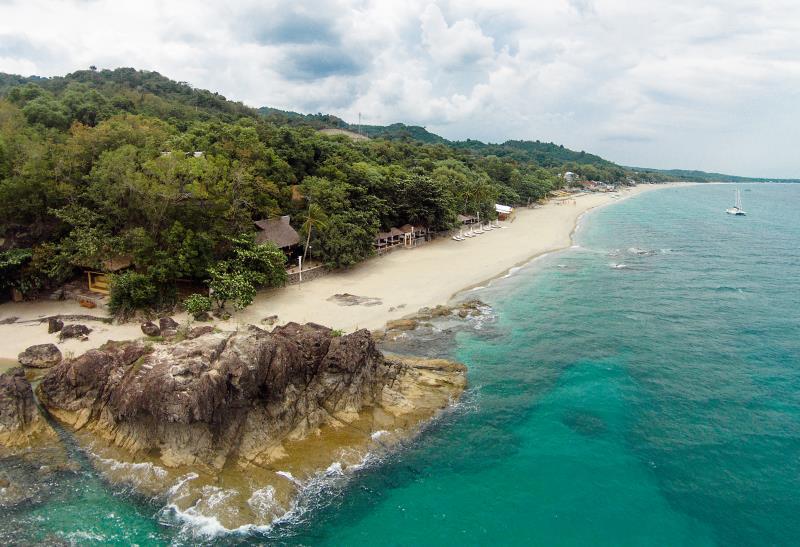 Laiya Beach, San Juan, Batangas
Weathering-formed crushed shells and corals make up both beaches' white sands, with Boracay's being noticeably finer and whiter. Laiya is one of the beaches that have gained popularity recently; thus, there are not as many luxury resorts and activities in the area as compared to other beaches in the country.
My Personal Experience
I've been to Laiya for 3 times. The first time was in summer of 2012 when I brought my family and relatives to one budget resorts (forgot the name) along Laiya beach. There, we rented a cottage and spend a day tour.
The second time was a company-sponsored outing/team building at Laiya Coco Grove Resort in 2014. It was also summer time and the weather was great. Instead of day tour, our company let us stayed overnight so that we can enjoy beach activities during day time then chill at the pool at night.
Best Time to Visit Laiya
Laiya beach is open all year round but the best time to visit is during summer. This is from March to May. Due to its proximity to Manila, expect crowded beach even during off season. I recommend to schedule your trip during weekdays.
RESORTS TO BOOK IN LAIYA
Laiya beach
has 3 miles of shoreline, and it is ideal for beach bumming, diving, snorkeling, and even fishing. Because of its long shoreline, there are more than 50 resorts in Laiya, alone.
Here are top resorts you can book in Laiya, San Juan:
Acuatico Beach Resort & Hotel
A premium leisure resort, Acuatico Beach Resort offers you the perfect sanctuary to reset and recharge. Enjoy swimming in their famous infinity pool and witness its merge with the azure waters of the adjacent seas and and get to enjoy the facilities including watersports rides while at the beach.
Acuatico Beach Resort & Hotel
Contact number: 0928 854 3849
Email: reservations@acuaticoresort.com.ph
Cocoons - Club Laiya
A unique and unconventional resort hotel experience. The Cocoons, a Millennial Resorts project, can be found in CaSoBē (Calatagan, Batangas) and Club Laiya. Cocoons are designed to merge intimate stays and engaging plays in one Instagram worthy space for guests. Rest yourself in the Garden Cocoons that will recharge your spirit and make you feel one with nature.
Cocoons - Club Laiya
Address:
Club Laiya, Brgy. Laiya Aplaya, San Juan, Batangas
[ Get Directions ]
Contact number: +632 88365055 / 0999 225 3333
Email: info.clublaiya@millennial-resorts.com, reservations@millennial-resorts.com
La Luz Beach Resort
Known also as
La Luz Beach Resort and Spa
is a popular leisure-oriented tourism destination located adjacent to a marine sanctuary in Hugom, Laiya, San Juan Batangas. They maintain a very relaxed atmosphere by keeping the resort very natural, maintaining the existing trees and have planted new ones along the way.
La Luz Beach Resort
Contact number: 0916-370-4017 / 0927-805-3484 / 0920-603-8814 / 0998-338-7111
Email: customerservice@laluzbeachresort.com
Blue Coral Beach Resort
The resort offers no less than the warmth of
Mediterranean villas
to the cool ensemble of tropical paradise.
Blue Coral Beach Resort
boasts of facilities and services that truly matched your need for a relaxing, enjoyable and worry free vacation.
Water sports facilities such as jet ski, kayak, snorkeling gadgets, banana boat, speedboat, fishing equipment, boat touring and sight seeing are all available to make you totally satisfied with your stay!
Blue Coral Beach Resort
Contact number: 0917 676 9146 / +6325599747
Email: bluecoralbeachresort@gmail.com
Other Laiya Beach Resorts, Hotels, Transients and Vacation Houses for Rent
ATTRACTIONS TO SEE IN MANILA
HOW TO GET TO LAIYA
All of my four-time visit to Laiya we brought our own vehicle for transport. But here's a commuting guide if you plan to hop on-and-off PUVs:
Via San Juan
The fastest way to Laiya is via San Juan. Take ALPS Bus from either EDSA Nepa Q-Mart, Araneta Center Cubao, or Alabang Grand Terminal to San Juan, Batangas. The earliest trip leaves at 3:00AM and the last trip departs at 5:00PM. ALPS Bus has 12 total departures per day. The fare is ₱190.
In San Juan, right in front of the Municipal Hall, board a Laiya- or Hugom-bound jeepney. Take note that the last departing jeepney to Laiya leaves at 5:00PM. There are also tricycles that are willing to take you to Laiya but you just need to shell out more.
From Pasay Buendia, EDSA Kamuning, or Araneta Center Cubao, take Ceres Tours, DLTB, JAM, Batangas Star Express, RRCG, etc to Lipa City, Batangas. Travel Time is about two hours and the fare ranges from ₱135 to ₱150.
From Lipa bus terminal, take a jeepney or van to San Juan, Batangas. The van is faster but will cost you much higher.
And then from San Juan, take a jeepney or tricycle to Laiya.
For those who are bringing own vehicle, you may use Waze or Google Maps for directions. If you don't have a private vehicle, you can rent a car or van here.
Laiya Budget Breakdown
The estimated budget for an overnight stay in Laiya Beach is between Php2,000.00 and Php5,000.00 per night. Given that you will share your expenses with at least TWO PERSONS.
You can lower the costs if the group is larger to share the expenses on room, food and transpo expenses as seen below:
Food – Php500 per head
Transpo – Php1,000 per head
Ecological Fee – Php20 per head
Room – Php1,000 per head
TOTAL EXPENSE: Php2,500 per head (approximately)
ACTIVITIES AND TOURS IN MANILA
Things to Remember When Visiting Laiya
Here are the things you must consider before planning to go to Laiya:
Travel Time to Laiya Beach is 3-4 hours.
Most of the resorts serve food. You may opt to bring your own or buy from town's market.
Credit cards are rarely accepted.
ATMs are online from town proper.
Cellular networks are available in most areas.
Schedule your trip as early as possible to avoid traffic.
Book a stay in advance.