This restaurant brings the taste of Ilocos in Pasig. See what's inside Inapuyan Resto Grill!
When you are craving for some Ilocandia cuisine, you only think of a few restaurants in Metro Manila that offers this kind of food. Good thing that we found one in Pasig!

Inapuyan or "Innapoy" which means "rice" in Ilocos and "Inapuyan" that means "flamed" or "grilled" is where the name itself originated. This is the idea of the Ilocano businessman and Pateros-based engineer co-owners of the restaurant.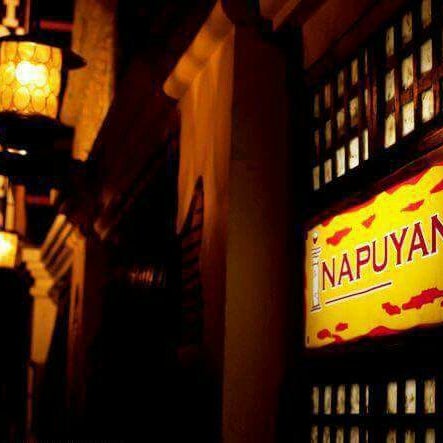 Their menu is mainly Ilocano dishes, mixed and modernized by their signature fusions of food.
You will also notice the nostalgic ambiance of the whole place from it's exterior, to it's interior design and even to their staff who wears straw hats (fedora-style) in uniform. It will bring you back in the Spaniard colonial days.
The restaurant only started in July 2016 and it already gained popularity in Pasig. That's why me and my wife didn't have a second thought in visiting them.
INAPUYAN BESTSELLERS
Here are the food you to try at Inapuyan Resto Grill:
👍 Bagnet Kare Kare (the best pati bagoong 👍)
👍 Sinigang na Lechon
👍 Bagoong Fried Rice Omelette
👍 Pateros Seafood Express (our favorite)
👍 Crispy Dinuguan
FOOD REVIEW
Personally, I love all of the dishes we tried. My most favorite is their Kare Kare with Bagnet! I love the idea and the taste of its base in coconut. It is sweet and very tasty - kumbaga, sabaw palang ulam na! The bagnet was crispy outside but very tender inside. The vegetables complement with the base. The bagoong? If you are a fan of Barrio Fiesta, you will forget about it. Pramis! No kidding. I highly recommend you to try it.
It was also my first time to eat Sinigang na Lechon - YUP! It is the famous Filipino soup in which instead of having the regular chopped pork, it has lechon in it. The lechon? It was so tender where it can melt in your mouth. The soup was sour as expected. No wonder it is one of their bestsellers.
I also love their fusion of their seafood - the Pateros Seafood Express. Why is it called "Pateros"? The co-owner of Inapuyan from Pateros came up of the idea in adding "itlog na maalat" or salted egg in this dish, which is one of the main products in Pateros. I like it when they have it spicy - that's why they added the word "Express" in it. It's a good dish if you are into spicy and seafood.
WHAT'S INSIDE
Here, you can enjoy having the following:
✅ fully airconditioned
✅ parking space
✅ separate restroom for gents and ladies
✅ live acoustic band every night
✅ they also serve beers/alcoholic drinks
RESTAURANT REVIEW
The vibe of the restaurant can take you to the house in the Spanish era in the Philippines. The whole area is clean and airconditioned. They also have seats outside for smokers and for those who like to chill open air. They have regular live band performances every night. Beers and alcoholic drinks are also available.
TRIVIA: the antique windows hanging in the ceiling are personally chose and bought by the owners, having them as the Inapuyan icon. So whenever you their restaurants, you will notice these unique interiors.
See this short video clip we made for Inapuyan Resto Grill:
INAPUYAN MENU
Their menu is consist of different types of dishes in Ilocano term: Pampagana (appetizers), Nadiguan (soup), Nateng (vegetables), Baybay (seafood), Manok (chicken), Baboy (pork), Bagnet (crispy pork belly), Baka (beef), Sizzlers, Inapoy (rice meals), Merienda (snacks), Panghimagas (desserts) and Beverages. They also offer Combo meals and Set meals.
Most of their dishes are good for sharing (2-4 persons).
HOW TO GET TO INAPUYAN RESTO GRILL
This restaurant is located at the corner of Sandoval Ave. and Mercedes Ave. No PUJ or PUV are passing this location. Still, thanks to Waze and Google Maps because you can still find them using those apps.
Via Private Commuting
From EDSA: Take Ortigas Avenue, turn right to C. Raymundo Ave. (Tramo) and turn left to Mercedes Ave. The restaurant is exactly located at the end of the road.
From C5: If you are northbound, turn left to Eusebio Ave. Ext. once you reach Bagong Ilog, straight ahead till you reach C. Raymundo Ave. Lastly, turn right to Mercedes Ave. The restaurant is exactly located at the end of the road.
NOTE: Be careful in driving at Pasig Rotunda where it changes route from Morning to Evening where you have to turn right at the corner of Jollibee the turn left at the corner of RCBC to reach C. Raymundo Ave. Please follow the signal of TPMO (Pasig traffic enforcers) once you get there to avoid being caught in violation.
If you are southbound (from QC or Eastwood), turn left to Ortigas Avenue Ext. and follow the first instructions above.
From Taguig, Paranaque, Muntinlupa and South Luzon:
Take SLEX and exit Bicutan (or take the service road). Turn right until you reach Gen. Santos Ave. Straight ahead to C6. Exit Eusebio Ave. in Pasig-Taytay, turn left to Sandoval Ave. till you reach the end of the road. Just be careful again in entering Sandoval Ave since it is covered by the Odd-Even Traffic Scheme of Pasig.
Alternately, you can take C5 then follow the above instructions for Northbound route.
Inapuyan Resto Grill
Address: 1 Alfonso Sandoval Ave corner Mercedes Ave, San Miguel, Pasig City, 1600 Metro Manila
Business Hours: Tuesday-Sunday 10am-2am, Monday 5pm-2am
Facebook Page:
Inapuyan Resto Grill - Pasig
Instagram Account:
@InapuyanRestoGrill
Thank you Inapuyan Resto Grill - Pasig for the courtesy and the good food! :)
If you'd like your place be featured or reviewed by us,
please send your email at sponsor@morefunwithjuan.com or contact us
HERE
.
Where to Stay in Pasig
Whether you're a local looking for a quick getaway or a traveler exploring the wonders of Metro Manila, Pasig's hotels provide the perfect blend of comfort and luxury. Here are the top hotel accommodations in Pasig:
Marco Polo Ortigas Manila
Meralco Avenue and Sapphire Rd., Ortigas Center, Pasig City
See Photos and Room Rates!


37 San Miguel Ave, Ortigas Center, Pasig City
See Photos and Room Rates!


706 Shaw Boulevard, Pasig City
See Photos and Room Rates!


21 San Miguel Ave, Ortigas Center, Pasig City
See Photos and Room Rates!


Ace Hotel & Suites
Brixton Street, near Pioneer, United St, Pasig City
See Photos and Room Rates!
Also in Pasig
IMPORTANT NOTE: The rates, contact details and other information indicated in this post are accurate from the time of writing but may change without IMFWJ's notice. Should you know the updated information, please let us know by leaving a message in the comment box below.
WHERE TO STAY IN PASIG:
IMFWJ IS NOW ON YOUTUBE!