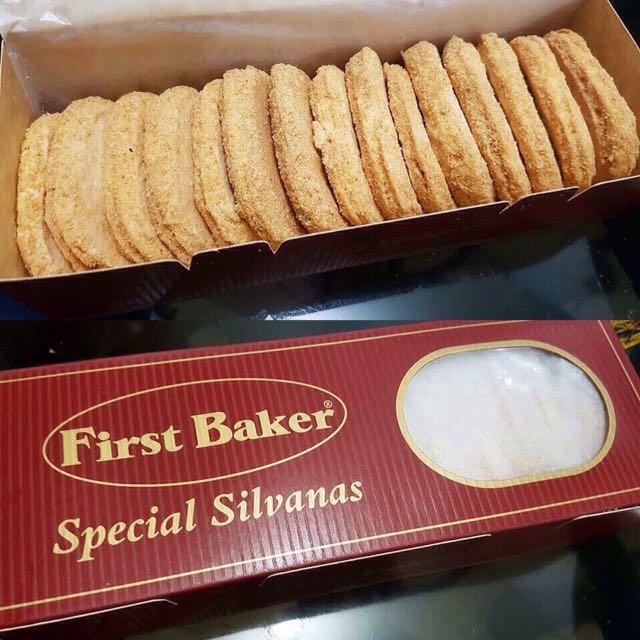 It was 2016 when I first tried and tasted this famous pastry from Nueva Ecija - First Baker's Special Silvanas.
FIRST BAKER SPECIAL SILVANAS
This dessert was on trend on many buy-and-sell groups on Facebook. Out of curiosity, we bought not only one, but two boxes! Hahaha and yes, it did not fail us.
This crunchy, creamy, frozen cookie made up of a layer of buttercream sandwiched between two cashew-meringue wafers, and coated with cookie crumbs will melt in your mouth after every bite.
The right sweetness and consistency of First Baker's silvanas are what makes them special. The taste of smooth cream and crumbly wafers are perfectly combined that will definitely satisfy your taste buds.
WHERE TO BUY FIRST BAKER SPECIAL SILVANAS?
We had a supplier once before in Pasig and we became a reseller of this product for quite a while. However, we don't have anymore contact from her. But I can still see some people selling it on Facebook marketplace.
I also Googled where exactly you can buy it in Nueva Ecija and it seems that their stores are scattered in the whole province.
TIPS
Nilagay namin siya sa fridge nung umaga tapos kinain din namin. OK siya. Pero mas masarap at thick siya pag nilagay mo sa freezer. 👌
Yung 15 pcs hindi nagtagal samin. Hindi pwedeng magtira. 😂😂
Have you already tried this product? Tell us your experience in the comment box below.
LOOKING FOR KITCHEN OR DINING NEEDS?
Here are the best options to shop for your kitchenware and dining essentials:
first baker silvanas near me first baker silvanas origin first baker silvanas price first baker silvanas direct supplier first baker silvanas nueva ecija address first baker silvanas calories first baker silvanas review first baker branches silvanas price where to buy silvanas silvanas recipe silvanas near me silvanas dumaguete silvanas brownies silvanas origin mango silvanas