Are you tired of the hectic and congested life in Metro Manila? Why not take a short break and breath some air? Well, just a 3 to 4 hour drive, you can treat yourself with a day in a beach in
Batangas
.
On
Laiya Beach
along
Tayabas Bay
, this modest beach resort on green grounds is 54 km from the Calabarzon Expressway and 3 km from Laiya Adventure Park.
Kabayan Beach Resort Entrance
No-frills dorms have wood-framed bunk beds; some sleep up to 16 guests. Snug rooms add flat-screens and porches. There are 1- and 2-bedroom cottages, some with shared kitchens. Room service is offered.
ABOUT KABAYAN BEACH RESORT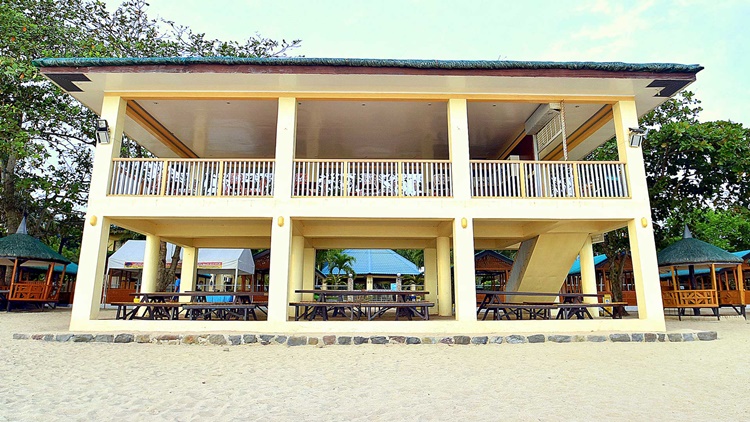 Al fresco function hall
Though it started as a rest house for the owners in 1996, through years, it really progressed. This relaxing hideaway that is nestled beside the clear blue waters has now lots of hotel-type, house-type, and dorm-type rooms that can accommodate guests and vacationers.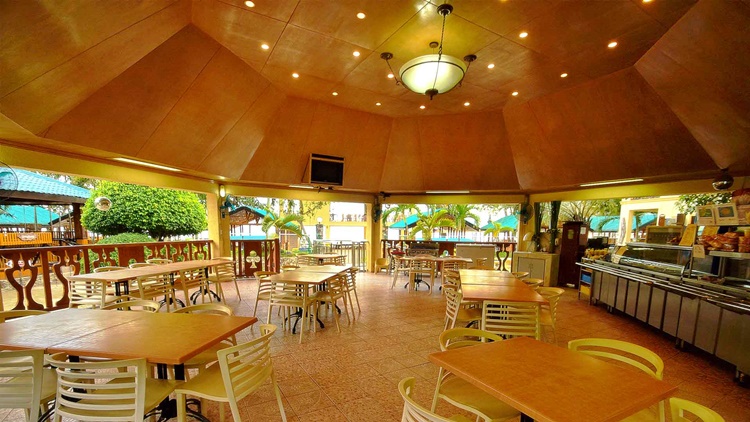 Kabayan Beach Resort - Food Court
The Kabayan Beach Resort has an El Kapitan and a food court where you can enjoy a quality time with friends and families over delicious foods and refreshing drinks. These foods will surely satisfy both your hunger and cravings.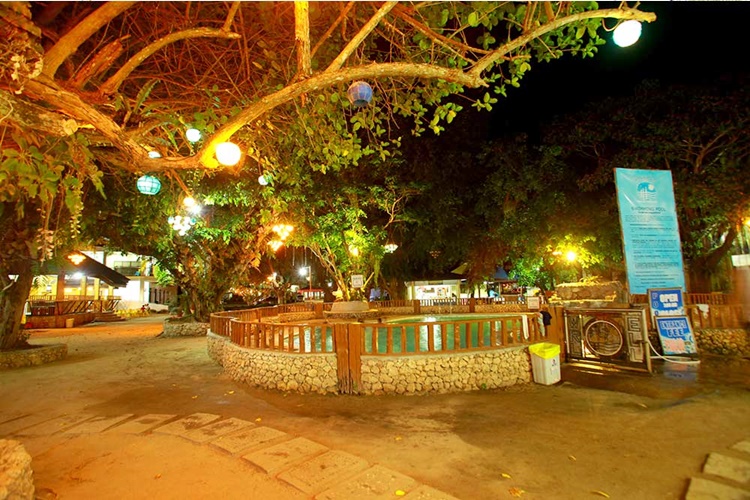 Kabayan Beach Resort - Public Pool Area
WHAT TO PACK FOR BATANGAS
Here are some things you might consider bringing with you for your day tour / adventure:
DAY TOUR ENTRANCE
150php/head 12 years old and above.
75php/head 11 years old and below.
Kabayan Resort's Beachfront
COTTAGE RATES
The resort rooms and cottages available for reservations and walk-ins at different rates depending on the numbers of the visitors and the duration of stay.
Tikling, Pipit, Maya, Kuling, Pagatpat, Pakiskis
Maximum Capacity: 8 Persons
Price per day: Php 2,000
Ma. Capra, Tariktik, Martines, Pulangga, Kulasisi, Kilyawan, Lawin, Kalapati, Bato-bato, Loro, Pugo
Maximum Capacity: 15 Persons
Price per day: Php 3,000
I find the resort good for friends or a group package where you can bonding with different activities you can do. It is also perfect for family bonding like this. 🙂
Our cottage
Unlike the other
resorts in Laiya
, Kabayan Beach Resort allows the visitors to bring their own food. Each cottages have a near grilling station and kitchenette.
Laiya Beach
ACTIVITIES TO DO
Us playing a game by the beach
I also find it very good for team building. There was actually a huge group of people playing games and sports like beach volleyball.
Kayaking
The beach resort also offers water activities at different costs like kayaking.
The beach itself was picturesque and perfect for beach photoshoots.
That's me chillin' and relaxing under the heat of the sunlight.
Taho vendors in the beach
You'll also notice some of the locals roaming their selling their items and products for their living. Don't hesitate to interact with them. Batangenyos are kind and approachable.
ATTRACTIONS TO SEE IN MANILA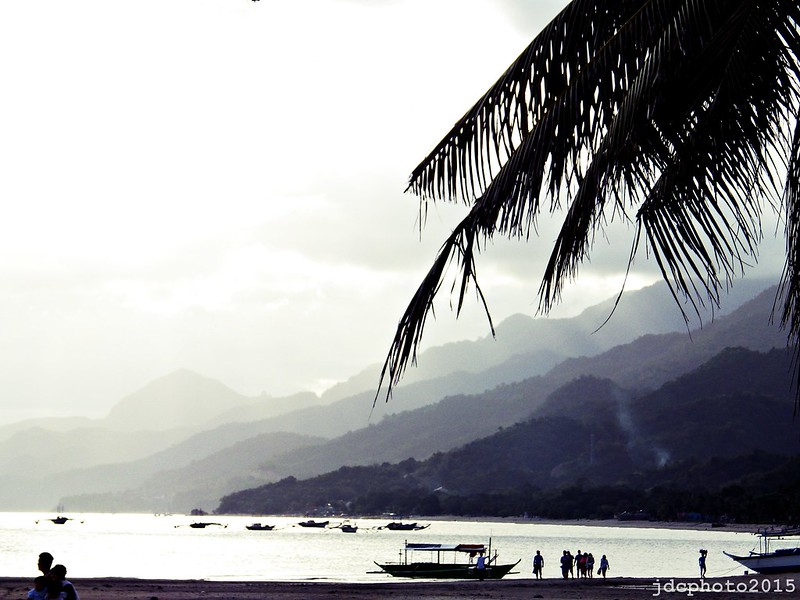 That was actually a relaxing day for me and let me forget the exhausted life of the city in a bit.
ROOM RATES AND TYPES
There are 3 types of rooms at Kabayan Beach Resort: Hotel Type, Bahay Type and Dorm Type.
Hotel Type
Dapo Rooms - ₱4,500 per night
Hotel Gumamela - ₱4,000 per night
Bahay Type
Bahay Dama de Noche - ₱15,000 per night
Bahay Camia - ₱18,000 per night
Bahay Sampaguita - ₱12,000 per night
Bahay Casa Blanca - ₱15,000 per night
Bahay Pechay & Repolyo - ₱7,000 per night
Bahay Chico, Mangga, Macopa, Santol - ₱7,000 per night
Dorm Type
Dorm Narra - ₱7,000 per night
Dorm Calachuchic - ₱7,000 per night
Dorm Rooms - ₱10,000 per night
Dorm Gladiola - ₱8,500 per night
RESORT AMENITIES
All Rooms/Cottages are air-conditioned and have bathrooms equipped with water heaters
All Rooms/Cottages have MAHARLIKA CATV Satellite TV (except Dorm Rooms)
All Rooms have porch area with sala, dining and kitchen set (except Dorm Rooms*, Dapo Rooms* and Dorm Gladiola) *has porch area only
Note: Towels, Toiletries and Dishwashing paste are not included. These are available for sale at the Convenience Store.
ACTIVITIES AND TOURS IN MANILA
HOW TO GET TO KABAYAN BEACH RESORT
Kabayan Beach Resort is one of the resorts you can find in the long beach of Laiya in San Juan, Batangas.
ALPS Bus
Via San Juan
The fastest way to Laiya is via San Juan. Take ALPS Bus from either EDSA Nepa Q-Mart, Araneta Center Cubao, or Alabang Grand Terminal to San Juan, Batangas. The earliest trip leaves at 3:00AM and the last trip departs at 5:00PM. ALPS Bus has 12 total departures per day. The fare is ₱190.
In San Juan, right in front of the Municipal Hall, board a Laiya or Hugom-bound jeepney. Take note that the last departing jeepney to Laiya leaves at 5:00PM. There are also tricycles that are willing to take you to Laiya but you just need to shell out more.
Via Lipa
From Pasay Buendia, EDSA Kamuning, or Araneta Center Cubao, take Ceres Tours, DLTB, JAM, Batangas Star Express, RRCG, etc to Lipa City, Batangas. Travel Time is about two hours and the fare ranges from ₱135 to ₱150.
From Lipa bus terminal, take a jeepney or van to San Juan, Batangas. The van is faster but will cost you much higher.
And then from San Juan, take a jeepney or tricycle to Laiya.
TIP:
A shuttle to the nearby theme park is free. There's a casual eatery and an open-air bar, plus beachside gazebos with picnic tables. Other amenities include an outdoor pool, a playground, a convenience store and a chapel. Massages, kayak rentals and a beach volleyball court are available.
For those who are bringing own vehicle, you may use Waze or Google Maps for directions. If you don't have a private vehicle,
you can rent a car or van here
.
Kabayan Beach Resort
Address: Brgy. Laiya Aplaya, San Juan, Batangas, 4226, Philippines
Phone Number: +63 (2) 709-1470 | +63 (2) 709-0115 | +63 (917) 627-9357 | +63 (917) 896-3312 | +63 (908) 820-6492 | +63 (908) 820-6487
Email: info@kabayanresort.com
Facebook Page:
Kabayan Beach Resort
ALSO IN BATANGAS






IMPORTANT NOTE: The rates, contact details and other information indicated in this post are accurate from the time of writing but may change without IMFWJ's notice. Should you know the updated information, please let us know by leaving a message in the comment box below.

IMFWJ IS NOW ON YOUTUBE!
Click here to subscribe to our YouTube Channel.

WHERE TO STAY IN BATANGAS
Batangas Hotels & Resorts | Batangas Transient for Rent