Looking for places to feel the holidays and the Christmas season in the Philippines? Here's your guide to
12 DAYS-tinations for Christmas (ENTRANCE FREE)
!
Spending the holidays away from home is always an exciting idea. It's fun to experience a different culture and celebrate Christmas some other way than what you've been used to.
Here's a rundown of the best Christmas holiday destinations in and nearby
Metro Manila
.
WHAT TO BUY FOR CHRISTMAS
Here's a list of best things to buy for Christmas:
1. CHRISTMAS STREET LIGHTS TUNNEL (PASIG)
Opened this year, the
Christmas Street Light Musical Tunnel
will entertain visitors with a colorful light display synced with various yuletide jingles. The highly acclaimed display stretches along a section in front of the
Tiendesitas shopping centre
, covering the street with 2,368 pixels of light, made up of red, blue, and green bulbs, flickering to the beat of the music.
Location: Tiendesitas, Frontera Drive (Ortigas East), Ortigas, Pasig City
2. FESTIVAL OF LIGHTS (MAKATI)
Festival of Lights
When to visit: The park is open and you can watch the Festival of Lights from 6 PM to 10 PM, November 9 - January 8. Show starts every 30 minutes.
Location: Ayala Triangle Gardens, Ayala Avenue corner Makati Avenue, Makati City
3. MAGIC OF LIGHTS (TAGUIG)
Another spectacular light display is a few minutes away from Makati. Magic of Lights is a crystal-inspired light and sound show at Bonifacio High Street's park in Taguig City, with a huge "gift box" made up of small crystalline spheres, changing color to holiday music, and sometimes surrounded by fog and dancing laser lights. Around the gift box are lights twirled around palm trees and more lights hanging from establishments around the area, which also blink and change color in time to music.
When to visit: Magic of Light is happening everynight until January 7, 2018. Every 30 minutes, from 6 pm to 10 pm.
Location: Bonifacio High Street, Bonifacio Global City, Taguig City
4. SPARKLE OF CHRISTMAS (MUNTINLUPA)
The newly opened Spectrum Linear Park has been transformed into a magical Christmas paradise through an enchanting lights-and-sounds show. Sparkle of Christmas features a 40-foot tall Christmas tree animated through very cool 3D mapping. There's also an arch of Christmas lights leading to the towering tree.
When to visit: Sparkle of Christmas at Filinvest City runs every weekend until December 31, 2017, every 30 minutes from 6 p.m. to 9 p.m.
Location: Spectrum Linear Park, Filinvest, Alabang, Muntinlupa City
5. THE NORTHERN LIGHTS (QUEZON CITY)
Up north in Metro Manila is a light and sound show portraying the Christmas tradition of
Simbang Gabi
, with a giant cathedral all aglow, surrounded by pillars of light. All blink and change color to Christmas medleys and amid fog and laser lights. The cathedral looks very much like the architecture of century-old Spanish churches.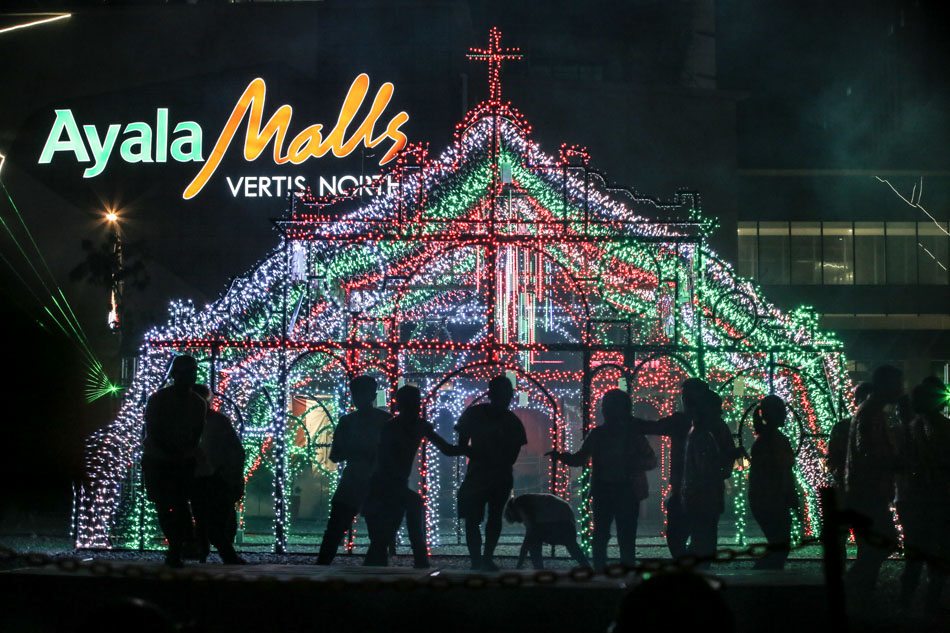 Vertis Northern Lights, Quezon City
When to visit: aily until January 8, 2018. Every 30 minutes, from 6 pm to 10 pm.
Location: Vertis North, North Avenue, Quezon City
6. VAST IMAGINARIUM MIRROR ROOMS (PASIG)
Estancia
draws inspiration from Japanese artist Yayoi Kusama, known for her psychedelic paintings of loops and dots, dizzying walk-in installations, and picture-perfect sculptures. Making use of lights and mirrors,
Vast Imaginarium
presents three rooms—The Lit Room, The Abyss Room, and The Green Room—on different floors of the mall. There's also The Enchanted Room, which looks like a giant gift box found at the Capitol Commons Park.
Vast Imaginarium Mirror Rooms
When to visit: The mirror rooms are open daily during mall hours until January 7, 2018.
Location: Estancia at Capitol Commons, Meralco Avenue, Ortigas Center, Pasig City
7. POLICARPIO STREET (MANDALUYONG)
In 1995, one homeowner living along Policarpio Street decided to extend her Christmas display outside her home to spread happiness among her neighbors and passersby. Today, not one but almost all homeowners in Policarpio Street make it a goal every year to spread happiness among visitors of their lane. And so they dress up their front yards, gates, and facades with bright festive lights and larger-than-life displays.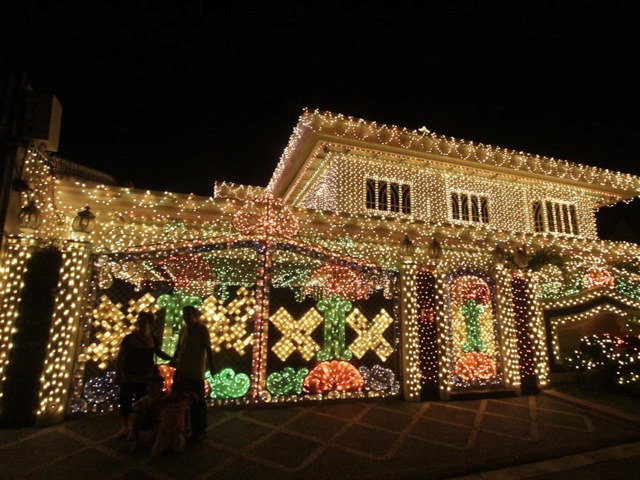 Policarpio Street, Mandaluyong
When to visit: You can visit Policarpio Street as early as 6:30 PM to see the famous lane glow at night.
Location: Policarpio Street, Mandaluyong
8. CHRISTMAS HOUSE (CAINTA)
To make his house as festive as possible, Alexander Cruz of Filinvest Homes East used 5,000 boxes of LED lights, each with 100 hundred bulbs. That's half a million lights! You can see a tunnel of lights, Christmas trees made of lights, curtains made of lights, and more lights. This tradition started in 2010 and Cruz' family has welcomed up to 1,000 visitors per day because of his amazingly decorated house.
When to visit: Cainta Christmas House is open for public viewing from Monday to Saturday, 7 p.m. to 9:30 p.m.; and Sunday, from 7:30 p.m. to 9:30 p.m.
Location: Filinvest Homes East, Marcos Highway, Cainta, Rizal
ATTRACTIONS TO SEE IN MANILA
9. MAGICAL FIELD OF LIGHTS (LAGUNA)
The
Magical Field of Lights
features hundreds to thousands of vividly colored dandelion-like stems that change color, tube lights, and light spheres that resemble magical orbs. Scattered in the expansive grass field are LED Christmas trees.
When to visit: 6pm to 10pm daily
Location: Nuvali, Sta. Rosa City, Laguna
10. CHRISTMAS VILLAGE (MARIKINA)
ChristmasSaya Bazaar
Set in Marikina, the Christmassaya Bazaar & Grand Carnival sets itself apart from the other fairs in Metro Manila with its laidback location. The bazaar also features amusement rides via its Grand Christmas Carnival, as well as the Christmas attraction, The Spirit of Bethlehem Belen Museum. Visitors of the bazaar can also visit the nearby Philippine Science Centrum
When to visit: 6am to 10pm daily
Location: Riberbanks Center Marikina
ACTIVITIES AND TOURS IN MANILA
11. LIGHTS AND SOUND SHOW (PASIG)
Early or mid-November, the city government of Pasig starts to set up the glamorous lights and sound all over the oldest park in the city - Plaza Rizal. The whole park is surrounded by thousands of Christmas lights dressed and hanging on the trees. They also place a 2 to 3-storey sized giant Christmas tree.
Christmas Lights Show at Plaza Rizal
When to visit: 6am to 10pm daily
Location: Plaza Rizal, Pasig City
12. LIWANAG PARK (PASIG)
The electricity provider has taken the Christmas time concept to a whole different level with its Liwanag Park, located at the company's headquarters at Ortigas center in Pasig. This year features the light tunnel, Christmas train and a lot more!
Meralco Liwanag Park, Pasig
When to visit: 6am to 10pm daily
Location: Meralco Compound, Ortigas Avenue, Pasig City
IMPORTANT NOTE:
The rates, contact details and other information indicated in this post are accurate from the time of writing but may change without IMFWJ's notice. Should you know the updated information, please message us on
Facebook
.

WHERE TO STAY IN MANILA
best place to spend christmas philippines christmas staycation 2022 philippines where to go in christmas eve christmas in the philippines traditions best place to visit in december philippines best place to celebrate christmas where to go on christmas day christmas capital of the philippines