This park in Makati City is lit up during Christmas Season every year!
Christmas is officially here when the
Festival of Lights
opens their magnificent Music & Light show at
Ayala Triangle Gardens
.
On it's 9th year, the Festival of Lights 2017 has made it to the coveted list of Conde Nast Traveller's Seven Most Spectacular Lights in the World, in the company of distinguished luminaries such as the Tivoli Gardens in Copenhagen, Denmark, the holiday lights display at the legendary Champs-Elysees in Paris and Japan's Kobe Luminarie.
ABOUT FESTIVAL OF LIGHTS
Festival of Lights
is a light show choreographed by award-winning director Voltaire de Jesus and Luther Gumia. More than 1.6 million LED lights were used for the light show, adding brilliance while staying environmentally sustainable.
One medly will be staged every 30 minutes nightly. Each one boasts of a different mood, pace, and rhythm. As the lights flash and change colours to the beat of music, the revelry and joy of Christmas will surely be felt by everyone.
Festival of Lights 2022
Festival of Lights 2022
The lights are going to shine brightly at Ayala once more as Makati City brings back the highly anticipated and much-loved Christmas show at the Ayala Triangle Gardens. The dancing lights and music extravaganza runs from November 10 to January 8 every 6PM-10PM.
Festival of Lights 2022
This year's show is a LIVE 360-degree experience conceptualized by Director Ohm David and Lighting Designer Sueyen Austero.
WHAT TO BUY FOR CHRISTMAS
Here's a list of best things to buy for Christmas:
These are the past light shows at Ayala Triangle Gardens:
Gallery of Lights 2019
This year's theme is "Gallery of Lights" where it showcase different colors of light dancing in different shapes that looks like a gallery. The light show will start at 6pm until 10pm every night starting November 12, 2019.
Festival of Lights 2018
On November 15, Makati will once again welcome the most wonderful season of the year with Ayala Triangle Gardens' Festival of Lights, the signature lights and sound show that has beguiled thousands of Filipinos each yuletide season.
The Festival of Lights is just one of the numerous lights shows in Metro Manila and the whole country this year.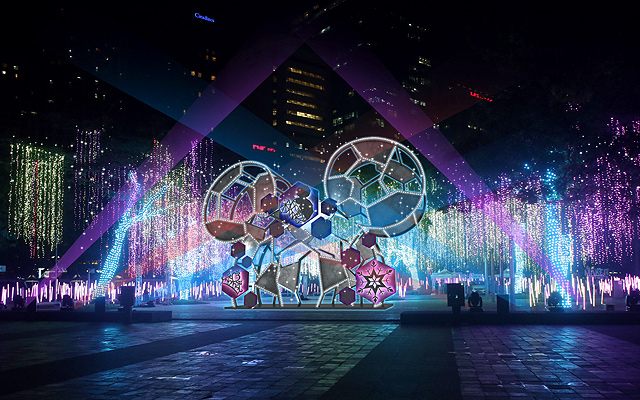 For this year's Festival of Lights, a number of weather proof led lights were used to light up the entity of Ayala Gardens in Makati City. The light show is choreographed by award-winning director, Voltaire de Jesus and will follow three musical distinct themes - Classic Filipino Christmas songs by Roy del Valle, Traditional Christmas songs by Von de Guzman and, Christmas songs with techno mix by Tris Sunguitan.
The Festival of Lights at the Ayala Triangle Gardens in Makati City will run daily starting November 9, 2017 to January 7, 2018 with a 30- minute interval every hour from 6:00 PM to 10:00PM and will allow its patrons to fully enjoy the Holiday season.
Have a glimpse of the Festival of Lights here:
Festival of Lights 2017
Here's how it looks in 2017:
HOW TO GET TO FESTIVAL OF LIGHTS
Festival of Lights is located at
Ayala Triangle Gardens. Here are the directions you can follow for public commuting:
Via Public Transportation
FROM EDSA
Take bus anywhere along EDSA with "Ayala-LRT Leveriza" sign.
In Monumento, you can take ride bus at the corner of 5th Avenue also known as C-3.
You can also ride a bus bound to Ayala from Fairview and Novaliches.
You can get off exactly at Philippine Stock Exchange and walk your way up to the Ayala Triangle Garden.
FROM BACLARAN
From Baclaran, ride bus with "Ayala LRT Leveriza" sign.
During weekdays, get off at proper unloading area which is right before Paseo de Roxas.
Otherwise, you will walk way too far because the next unloading station for north bound lane of Ayala is on Rustan or Glorietta.
Once you got off the bus in the unloading area before Paseo de Roxas Street, walk your way to the underpass and head onto the opposite side of Ayala where the Ayala Tower One is erected.
At the back of the building is Ayala Triangle Garden.
During Saturdays and Sundays, you can get off at the opposite side of Ayala Tower One Bldg and cross the road to get to the Ayala Triangle Garden.
This route can also be taken by those coming from LRT-1 Taft Avenue, Harrison and Leveriza.
If you are going to Ayala Triangle Gardens with your private vehicle, you can just easily get directions from your Waze or Google Maps app.
See the exact location on Google Maps:
Festival of Lights
Location: Ayala Triangle Gardens, Paseo De Roxas St Cor Makati Ave, Cor Ayala Ave, Makati, 1209 Metro Manila
Schedule: 6PM to 10PM
OTHER LIGHT SHOWS IN THE PHILIPPINES
SEE ALSO
6 Reasons Why It's More Fun Celebrating Christmas In Pasig
IMPORTANT NOTE: The rates, contact details and other information indicated in this post are accurate from the time of writing but may change without IMFWJ's notice. Should you know the updated information, please message us on Facebook.
WHERE TO STAY IN MAKATI:
festival of lights, diwali festival of lights hindu festival of lights pokémon go festival of lights berlin festival of lights christmas festival of lights near me festival of lights walk festival of lights 2022 festival of lights makati 2022 festival of lights philippines festival of lights ayala triangle festival of lights similar to philippines ayala triangle lights 2022 schedule festival of lights pokémon go hungry ghost festival similar in philippines hungry ghost festival in philippines