ABOUT SAMBOKOJIN
Sambo Kojin takes the lead in satisfying
Japanese
and
Korean grill
diners not only with its top grade US Beef and premium seafood.
Sambokojin Yakiniku
Yakiniku. The real thing means grilled meats in its broadest sense, traces its beginning to Korean immigrants in Japan's Kansai area after the World War II. The original Korean invention was known as 'hurumonyaki' the precursor of the popular 'bulgogi' which literally means 'fire meat' because it is cooked over burning flames.
From SAMBO KOJIN, the Japanese kitchen god, the fire bearer who held dominion over home and hearth, in whose honor, the ultimate "grill all you can, eat all you can Yakiniku" restaurant Sambo Kojin was named now offers the best of Japanese barbecue and the charm of its Korean counterpart.
Highlighting the freshest and most premium meat, poultry, seafood and vegetable
yakiniku
menu items, with a range of sumptuous cooked specialties and an extensive sushi bar, diners enjoy the ritual pleasures of grilling and the delight of feasting together on dishes resulting from the mastery of a Japanese and Korean culinary tradition.
Bringing in the authentic features of Japan's Yakiniku houses, Sambo Kojin modernizes the restaurant operation to provide comfort, efficiency and pleasurable dining. The exhaust system was designed to eliminate smoke and minimize odor while grilling thus, guests fully enjoy the experience of cooking their own food.
Sambokojin SM Megamall
No other can compete with the wealth of mouthwatering over 50 Sushi Bar favorites. Foremost of its unique features, aside from its complete line-up of Japanese specialities, is KAMAMESHI, the sought after Japanese rice dish. Maxing the dining pleasures is the variety of Japanese fried delights, KATSU and FURAI.
Popular Korean favorites include a savory company of appetizers, known as banchan, main table fare like Chapchae, Korean beef stew, bibimbap and almost the entire Korean culinary ensemble. Sweet endings boast of a line-up of yummy desserts from different flavored ice creams, cakes and pastries, to an indulgent chocolate fondue, to cap off a delectable meal.
SAMBO KOJIN BRANCHES
Here is the list of Sambo Kojin branches in
Manila
:
EDSA
207 EDSA, Greenhills, San Juan City


EASTWOOD CITYWALK 1
Eastwood Citywalk 1, Libis, Quezon City


SM MEGAMALL
Third Floor, Mega Atrium, SM Megamall, Ortigas, Mandaluyong City


SM SOUTHMALL
Food Street, Upper Ground Floor, SM Southmall, Almanza, Las Pinas City


SM CITY FAIRVIEW
Lower Ground Floor, The New Annex, SM City Fairview, Novaliches, Quezon City


WEST AVENUE
15 West Avenue, Del Monte, Quezon City
SAMBO KOJIN RATES
SM MEGAMALL • SM CITY FAIRVIEW • SM SOUTHMALL
SAMBO KOJIN FULLY VAXXED PROMO
Price

Monday to Thursday

---

Lunch & Dinner

P 758 (Reg. Price P958)

Friday to Sunday & Holidays

---

Lunch & Dinner

P 858 (Reg. Price P958)

Senior Citizen

20% Discount
WEST AVENUE • SM MEGAMALL • SM CITY FAIRVIEW • SM SOUTHMALL
DADS & SAMBO KOJIN BUFFET COLLAB FULLY VAXXED PROMO
Price

Monday to Thursday

---

Lunch & Dinner

P 888 (Reg. Price P1,088)

Friday to Sunday & Holidays

---

Lunch & Dinner

P 988 (Reg. Price P1,088)

Senior Citizen

20% Discount
VAT INCLUSIVE & NO SERVICE CHARGE
Add P200 per head for leftovers.
Only one (1) Promo Applies, Valid only Regular Adult Price.
*Prices as of April 1, 2022. Prices are subject to change without prior notice.
SAMBO KOJIN MENU
Here's Sambo Kojin updated menu: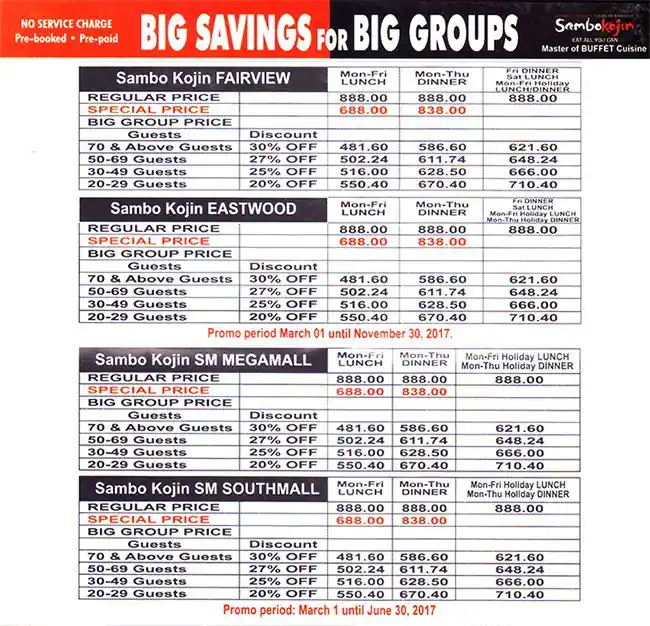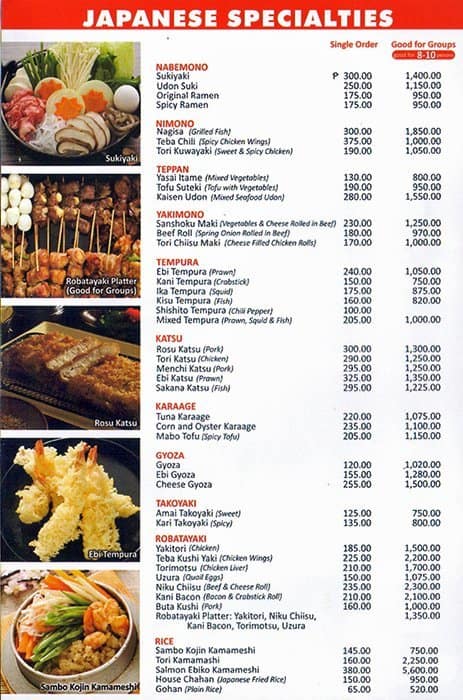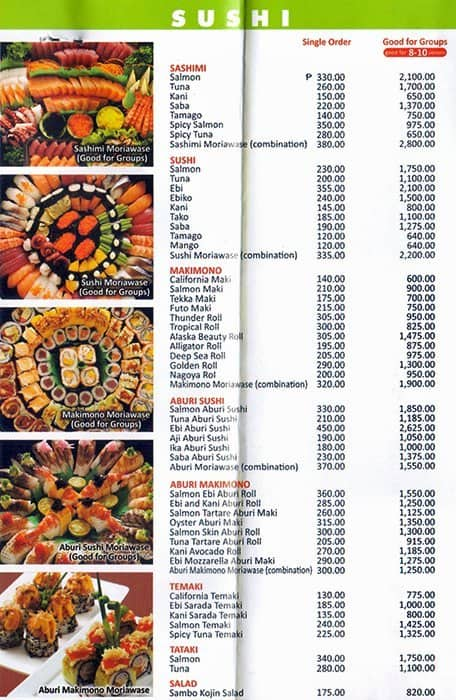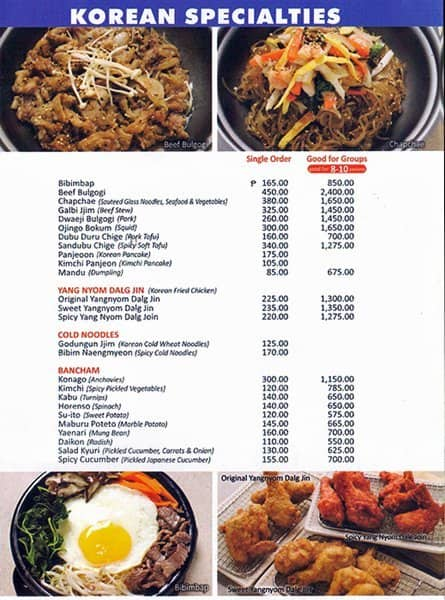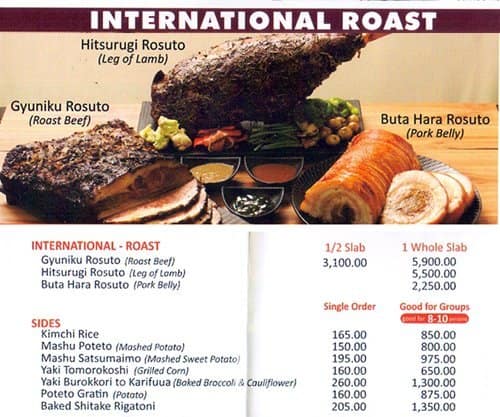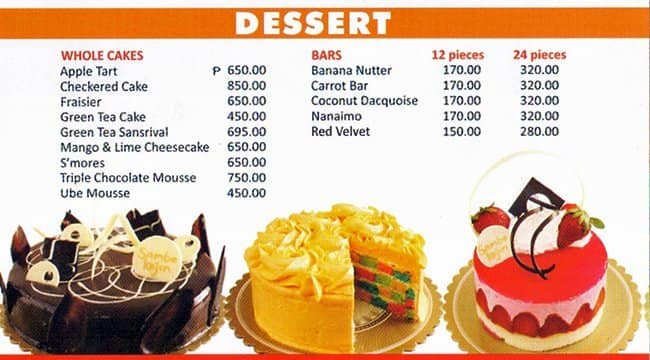 IMFWJ supports local businesses in the Philippines. If you are a business owner and would like to be featured too, please send your email at contact@morefunwithjuan.com or contact us
HERE
.
FOOD FEED
OTHER BUFFET RESTAURANTS IN MANILA
sambokojin price sambokojin mall of asia sambokojin megamall sambokojin birthday promo 2022 sambokojin branches sambokojin price 2022 sambokojin price per head sambokojin online reservation yakiniku buffet price yakiniku buffet near me yakiniku restaurant yakiniku price yakiniku price manila yakiniku philippines yakiniku fusion buffet