If you plan to travel abroad, there's one
identity document (ID)
that you can't leave without: your passport. This travel document verifies your identity and citizenship, so you must bring it with you whenever you go out of the country.
In the
Philippines
, the passport is issued by the
Department of Foreign Affairs (DFA)
. If you're 18 years old or older, your passport will be
valid for 10 years
. If you're below 18, it will be valid for five years.
Applying for or renewing your passport is simple, but it's easy to miss a step or two if you do not know what requirements are needed to get a passport. This guide will walk you through the requirements and procedures in applying for or renewing your DFA passport.
This guide will focus on step-by-step guide to
DFA NEW PASSPORT APPLICATION
with tips and reminders. If you are renewing your passport, go to -
PASSPORT RENEWAL APPLICATION PROCESS
Requirements for New Passport Application
For new applicants, here are the latest Philippine passport requirements according to DFA:
1. Confirmed Online Appointment
All DFA transactions, whether it's new application or renewal, require an online appointment. Walk-in applicants will not be entertained.
2. Accomplished Application Form
A link to these documents will be sent to your email after successful payment of the passport processing fee in select ePayment channels. Print them out and bring them along with other documentary requirements on the day of your appointment.
3. Birth Certificate
The copy of your birth certificate must be:
Original
PSA-authenticated
Printed on PSA security paper
If the PSA-authenticated Birth Certificate is not readable, get a copy from the Local Civil Registrar.
If registered within the past 10 years, submit an ID that pre-dates the registration or current ID with NBI Clearance. If registered over 10 years ago, no additional supporting requirements needed.
4. Valid ID (original + photocopy)
You may bring one valid picture ID issued by the government.

Acceptable ID for passport application (at least one):
Current valid ePassport
Social Security System (SSS) ID/Government Service Insurance System(GSIS) Unified Multi-Purpose Identification (UMID) Card
Commission on Elections (COMELEC) Voter's ID or Voter's Certification from the Election Officer with Dry Seal.
Land Transportation Office (LTO) Driver's License. The student permit is also accepted provided that it's in card format.
Senior Citizen ID
School ID (for students)
Professional Regulatory Commission (PRC) ID
Overseas Workers Welfare Administration (OWWA) / Integrated Department of Labor and Employment (iDOLE) card
Philippine National Police (PNP) Firearms License
Airman License (issued August 2016 onwards).
For OFWs or Filipinos based in other countries, you can also bring your Residence Card or any other ID issued by your host government which shows your Philippine citizenship.
Important: Only those listed above will be accepted as valid ID. DFA doesn't accept Postal ID, Philhealth ID, or TIN ID as primary valid IDs for Philippine passport application/renewal. The NBI Clearance only serves as a supporting document, not as a primary valid ID.
5. Personal Appearance
Applicants are required to show up on the day and time of their appointments. Failure to do so will prevent you from booking another online appointment for 30 days. This penalty has been imposed so applicants will not take their appointment slots for granted.
Other Requirements
Depending on your status or condition, here are other possible additional requirements for a new passport application:
Passport requirements for married women
In addition to the original copy of your birth certificate and valid ID, you must also bring the original copy of your marriage contract or Report of Marriage (if married abroad) authenticated by the Philippine Statistics Authority (PSA).

For women married to a foreign national, provide the original and photocopy of Commission of Filipino Overseas (CFO) Guidance and Counseling Certificate of Attendance.
Take note that the marriage contract is only required if you're using your spouse's last name. If you prefer to use your maiden name on your passport, there's no need to submit a marriage contract.
Passport requirements for minor new applicants.
Confirmed online appointment is only required for minors between the ages of 8 and 18. Minors 7 years old and below can bypass the online appointment and avail of the courtesy lane together with their parent/s and minor siblings.
Minor applicants a re required to appear at the DFA office with at least one parent. The parent/s must bring a passport or any one of the valid government-issued IDs as proof of identity.
If neither of the parents is available, any adult companion is allowed as long as he/she submits a Special Power of Attorney executed by the parent/s. If executed abroad, the Special Power of Attorney must be authenticated by the Philippine Embassy/Consulate.
If the applicant will not be traveling with parent/s, he/she must submit a DSWD clearance as well as an Affidavit of Support and Consent executed by the parents. Again, the affidavit must be authenticated by the Philippine Embassy/Consulate if executed abroad.
PSA/NSO birth certificate.
School ID (if available).
Minors who have no birth certificate, who are illegitimate, and who are legally adopted (or in the process of foreign adoption), are required to present additional supporting documents.



Supporting Documents.
Aside from the basic passport application requirements above, you may also need to submit additional documents if you're one of the following:

Applicants with late registered birth certificate: If Birth Certificate was registered at least 10 years ago, no supporting documents will be required. On the other hand, if it was registered less than 10 years ago, you must submit IDs that were issued before the date of late registration. If IDs that pre-date the late registration are unavailable, you may present current IDs or an NBI clearance.

Applicants with no Birth Certificate or Report of Birth: If born on or before 1950, please submit an original copy of PSA Authenticated Certificate of No Birth Record and Affidavit of Two Disinterested Persons (i.e., an affidavit by people who have personal knowledge of circumstances surrounding your birth but not related to you by blood).

Meanwhile, if the applicant was born after 1950, he/she must first file for late registration at the local civil registrar or Consular Office with jurisdiction over the place where the applicant was born. Afterward, the applicant can then submit the original PSA authenticated late registered Birth Certificate with the documents and IDs that were issued before the date of late registration.

Female applicants whose marriages have been dissolved and want to use their maiden names again: You can submit the original copy of the annotated PSA marriage certificate or Report of Marriage proving that the marital union has been dissolved. If neither of the two is available, you may also submit a Certified True Copy of the Court Order dissolving the marriage as well as a certificate of Finality from the court.

Applicants with missing/lacking data in Birth Certificate or Report of Birth: Please submit proof of filing of supplemental report or correction from the Local Civil Registrar (LCR).

Applicants with a discrepancy in data in the Birth Certificate/Report of Birth: If the discrepancy is in the first name, you must submit a copy of the petition along with the supporting documents for the correction of the first name to the local civil registrar or the consulate. For discrepancies in other data, submit an annotated PSA birth certificate which reflects the corrected entry or entries.

Applicants who are dual citizens: You must come with an original PSA authenticated Birth Certificate/Report of Birth and Original Identification Certificate issued by the Philippine Foreign Service Post (FSP) or the Bureau of Immigration (BI) and a photocopy. For verification purposes, please also bring a government-issued ID from the Philippines or from the country of second citizenship.

Applicants who are naturalized Filipino citizens: Submit an Identification Certificate of Naturalization from the Bureau of Immigration.

Applicants who have become Filipino citizens by Election: Bring an Affidavit of Election of Philippine Citizenship and an Identification Certificate of Election from the Bureau of Immigration.

Applicants who have become Filipino citizens by Act of Legislation: Please submit a Certified true copy of the law granting citizenship and a Foreign Birth Certificate authenticated by Philippine FSP (Foreign Service Post).
How to Apply for a New Passport (Step-by-step Application Process)
Here's the run-through of new application for Philippine Passport:
1. Set an appointment online.

Note that as of this writing, the online appointment is only available for Filipinos living in the Philippines. For those based abroad, passport applications are filed at the nearest Philippine Embassy or Consulate.

There are also applicants who are exempted for passport appointment and can avail of priority/courtesy lanes at any DFA branch/office.


Things you need for the passport online appointment system:
A working computer with internet access.
A Web Browser. (Internet Explorer ver.11 or higher / Mozilla Firefox ver.45 and up recommended)
A VALID and WORKING EMAIL ADDRESS to receive system-generated messages.
A PDF reader and a working printer to view and print the system-generated application form in A4-size paper.
Here are a few important things you need to know:
You need a Gmail or Yahoo! email account for the appointment. Technical incompatibilities prevent email addresses from Outlook, MSN, Hotmail, and Live from receiving an email confirmation.
The online appointment system works on a first come, first served basis.
If possible, choose an earlier schedule (AM) to avoid long queues and to have your passport application processed within the same day.
You can also try to schedule a passport appointment over the phone through the DFA customer service hotline at (02) 737 1000.
Passport appointments are FREE. Be wary of fixers who charge exorbitant fees to illegally secure slots in the online appointment system.
How to set an appointment online?
Read the Terms and Conditions, and then tick the box. This means that you have understood the terms.
There are two options: INDIVIDUAL Appointment and GROUP Appointment. Choose the one that applies to you.
Choose a DFA office/branch. Select the one nearest you or the one most convenient for you. Later on, you can change it and check other branches if you are having a hard time securing a slot with your first choice. Hit the Next button.
Select a date and time from the provided calendar. The earliest open date is noted above the calendar. The dates in GREEN are AVAILABLE, while those in RED are FULL.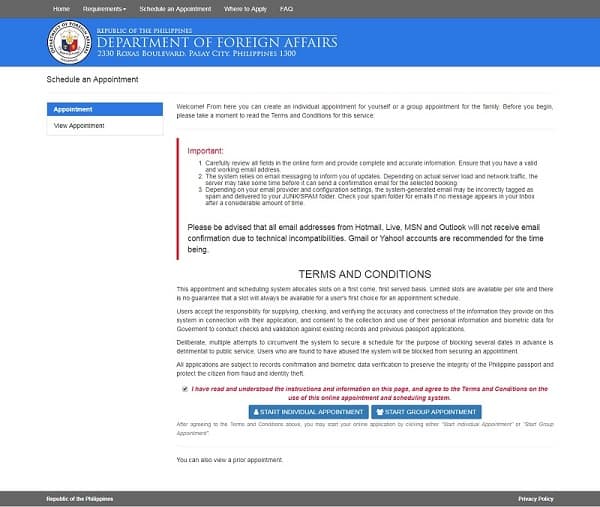 Terms and Conditions Page - PH Passport Application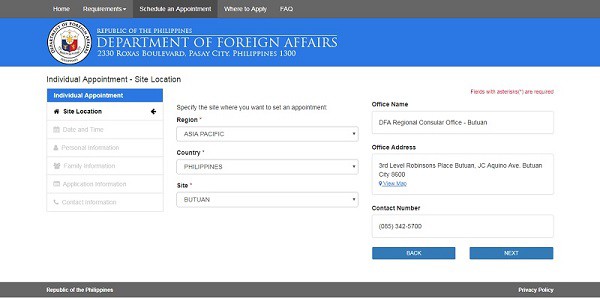 Choose a DFA office/branch - PH Passport Application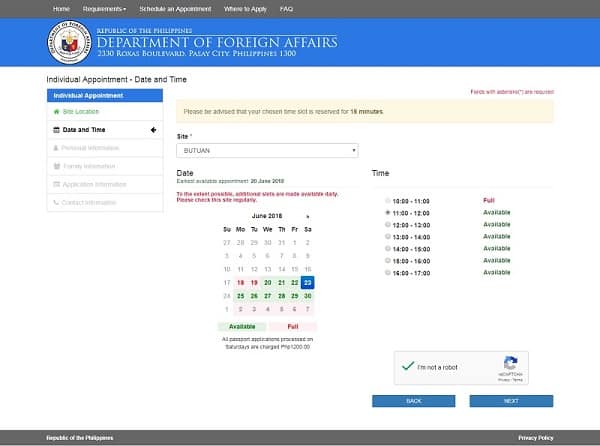 Date and time page - PH Passport Application
2. Fill out the application form.
After you get a slot, you will be directed to the next step, which is filling out the four-page online application form. Remember, you only have 15 minutes to complete this. Prepare the following information before you schedule an online appointment to save more time.
Personal Information: The first page contains your Personal Information such as Name, Birth Date, Contact Numbers, E-mail Address, etc.
Family Information: The second page requires your Family Information like your Parents' and Spouse's names and Citizenship.
Application Information: The third page is all about your Application Information including Application Type, Citizenship, and Emergency Contact Person and his/her contact number.
Contact Information. The fourth page asks for your home and office addresses and contact numbers.
You will be given time to check all the information you input. Make sure you have no typos and everything is correct, including the spelling.
ATTRACTIONS TO SEE IN MANILA
3. Pay the passport processing fee.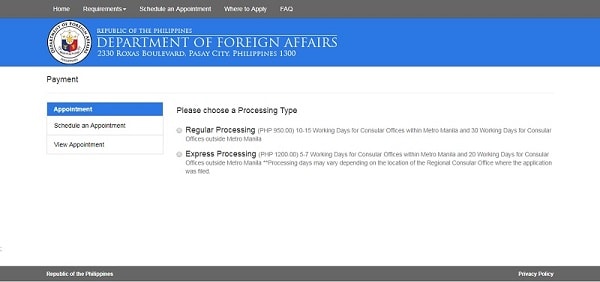 The next step after you submit the form is the payment for the passport processing fee. Choose one of the two processing options, depending on what applies to you:
Regular Processing: This costs P950 and takes 10-15 days in Manila.
Express Processing: This costs P1200 and takes 5-7 days in Manila.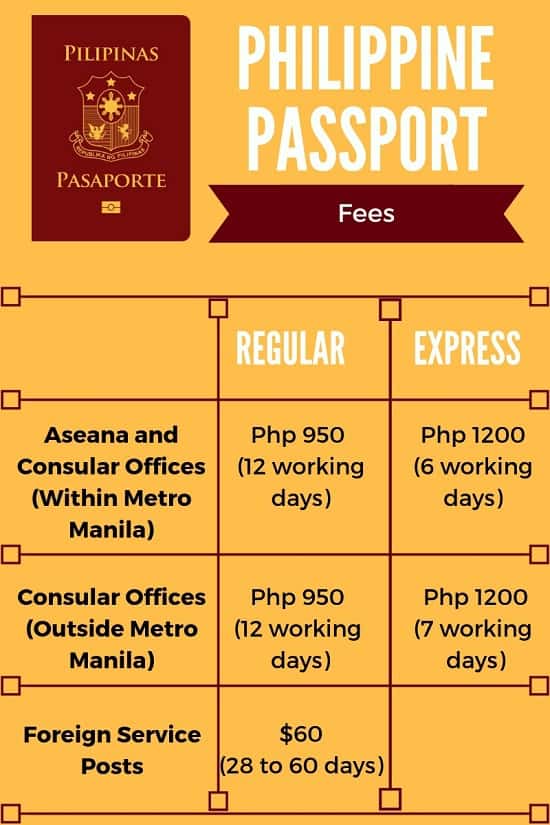 Follow these steps for payment process:
Select between regular or express processing.
Then hit PAY NOW.
A message will pop up. Click the "I agree" box, then hit PROCEED TO PAYMENT.
You will land on the PAYMENT page where you will see the payment options, the total amount that you need to pay, and some reminders. A convenience fee of P50 per person is normally added on top of the total processing fee amount. Hit PROCEED.
You will receive an email providing your Payment Reference Number and instructions on how to settle your payment. Hold on to your reference number.
You need to pay the processing fee within 24 hours. Go to your chosen authorized payment center. You have to secure a copy of your reference number. Make sure you declare and pay the exact total amount.
After settling your payment, an appointment confirmation will be sent to your email. You will find three files attached to the email: your application form, the receipt, and the checklist. You need to secure a hard copy of each file. Print them all out. Use A4 paper. You need to bring them on the day of your appointment.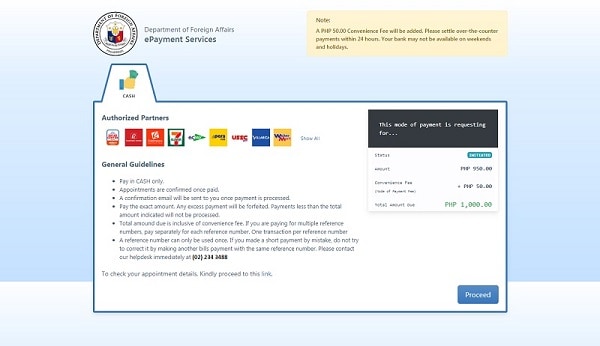 According to DFA, you can pay the passport processing fee in any one of the following authorized establishments:
Bayad Center
EcPay
Pera Hub
Robinsons Business Center and Department Stores
Waltermart Department Store
7-Eleven
USCC (Western Union)
Villarica Pawnshop
Other Payment Centers, as well as the credit/debit card payment facility, will be made available soon.
You need to pay the EXACT amount. No more, no less. The payment will not be processed or will be forfeited if it's not the exact amount.
You can only use your Reference Number once, meaning one transaction per reference number.
If you encounter any problems regarding payment, contact the DFA helpdesk immediately at (02) 234 3488.
4. Proceed to the DFA office on your appointment date and time.
You need to appear personally at your chosen DFA office on your scheduled date. Don't forget to bring all the requirements with you, plus the Application Form printout (hard copy), the checklist with your confirmed schedule, and your eReceipt (two copies). Ensure that you arrive at the place 30 minutes to 1 hour before your scheduled appointment. Latecomers will not be accommodated.

Also, if you've chosen to appear in one of DFA satellite offices, keep in mind that they only process passport applications and renewals. Other issues like citizen evaluation cases and lost passports are addressed to DFA Aseana.

Important reminders:
Observe proper dress code. People wearing sandos, spaghetti straps, shorts, tubes, sandals, and slippers may not be allowed to enter the building.
Minors below 18 years old are required to appear with a parent or an adult companion.
Don't forget to bring the printed passport appointment packet (see the previous step) as well as original copies and photocopies of the documentary requirements.
No need to bring passport-sized photos. The encoding team will do the image capturing for you.
Proceed to the Application/Appointment Counter to present the printout of your passport appointment packet. Get a queue number and wait for your number to be called or show up on the announcement screen.
When it's your turn, go to the Information Counter or Processing Area to present all your documents.
Every new applicant must be photographed and have his/her biometrics taken to establish their identity. The biometrics are eventually stored in the microchip of the e-Passport as an added security feature.
A DFA personnel assigned at the Encoding section will take your photograph (which is why you don't need to bring passport pictures), fingerprints, and digitized signature.
Before taking your photo, the DFA staff will ask you to show your bare face by removing eyeglasses, contact lenses, facial piercings, earrings, and other pieces of jewelry.
Only apply light make-up. Don't smile or show your teeth and look directly at the camera.
In the last step, a DFA staff will either give you a claim stub or write on the back of your official receipt the date when you can claim the passport.
For those who are too busy to return to the DFA office, a courier service can deliver your passport to your doorsteps for Php 150. To opt for this service, you can stop by and pay the fee at the Delivery Counter before leaving the DFA office.
ACTIVITIES AND TOURS IN MANILA
5. Claim your Philippine passport.
You can receive your Philippine passport in two ways:
Return to the DFA office on the date indicated in your claim stub or Official Receipt. Claim your passport at the Passport Releasing section. If you're not available to personally claim your passport, you can ask a representative to do it on your behalf, provided that you execute a Special Power of Attorney containing the reason/s why you aren't able to claim it yourself.
If you have availed of the courier service, wait for your passport to be delivered to your mailing address approximately 1 to 2 weeks after your application. In case you won't be available to receive it personally, a representative must show the claim stub/Official receipt, an authorization letter with your signature, and valid IDs of both you and the said representative.
Frequently Asked Questions (FAQs)
Who can apply for a Philippine Passport?
Since a passport is proof of your Filipino citizenship and your allegiance to the Philippines, only Filipino citizens are eligible to apply and acquire a Philippine passport.
Natural-Born Filipino Citizen
Naturalized Filipino Citizen
Dual Citizen (One citizenship is Filipino)
Filipino Citizenship Obtained by Election
Filipino Citizenship Granted by Act of Legislation
Can I apply in the province even if I don't live here?
YES. The most important thing to do is to make sure you have a confirmed appointment. Just remember that the processing days differ per area/region. You can check that on the payment part of your online appointment process.
I didn't receive an email when I secured an appointment. I don't have a reference number. What can I do?
Call the DFA hotline: (02) 556-0000 for assistance.
Can I reserve multiple appointment slots for myself?
NO. If you have an existing application, the system will tag another attempt to get a slot under your name as an ERROR.
The only way for you to reserve anew is to CANCEL the first/existing one.
I can't make it on my appointment time. What should I do?
You have the option to either RESCHEDULE or CANCEL your appointment.
However, changes must be made at least three (3) working days before your schedule. If you fail to do this, the system will mark and penalize you.
Can I change my appointment schedule?
YES. Go to this page, and then click on View Appointment. Input your Appointment Code and your email address, then click on View Details. Once logged in, choose RESCHEDULE.
You should do this not later than 3 days before your original schedule. The rescheduled date must be no longer than 30 days from the original date.
I didn't make it to my appointment schedule. What should I do?
Wait for 30 days. There is nothing else you can do if you didn't show up on your appointment schedule.
As a penalty for "No Show" applicants, you have to wait for 30 days to make another appointment.
I made a mistake or misspelled something on the form. How to change it?
You cannot change it online, BUT you can correct it at the DFA office on your appointment schedule.
Remember that during the data encoding stage, you will be asked to check and review the information entered by the officer. This is your chance to correct the mistake or the spelling.
Is personal appearance required?
YES. Your photograph, signature, and biometrics will be taken, so your physical presence at the DFA office is a must.
How many days does the passport processing take?
Here are the usual processing times:
Regular Processing. 10-15 days in Manila.
Express Processing. 5-7 days in Manila.
What is an ePassport?
The Philippines has been issuing ePassport since 2009. An ePassport has an integrated circuit chip or microchip where the biometrics data are stored. An indication that you are holding one is the chip sign or icon at the bottom portion of your passport's front cover.
These are the advantages of the ePassport:
It is equipped with an Automated Fingerprint Verification System (AFIS), preventing multiple passport issuances to one person and improving imposter detection.
It is considered highly secure by world standards, thwarting passport tampering and reproduction.
Countries are more confident and accepting of ePassport because of its biometric technology that provides advanced border security and protection.
Holders of ePassports can avail of the "e-gates" (automated border clearance) service, automated issuance of boarding passes, and more efficient travel transactions with airlines.
It speeds up clearance at immigration checks.
passport application form philippines 2022 online passport appointment www.dfa.gov.ph online www.passport.gov.ph appointment passport requirements for new applicant passport requirements philippines 2022 philippine passport requirements passport requirements 2022 Philippine passport number sample Feedback philippine passport appointment philippine passport visa-free countries philippine passport renewal philippine passport application philippine passport countries philippine passport number